At 9:53 PM, Brooklyn Bazaar was still in its eighth-grade semiformal phase. Most of the few dozen concertgoers who'd already arrived steered clear of the wood-paneled dance floor in the center of the room, preferring to hug the mirrored walls on the carpeting that framed it instead.
This impromptu game of "The Floor Is Made of Lava but Only the Wood Part" came to an abrupt end as soon as Cakes came out. He hopped down off the stage and was quickly swallowed up by the crowd as they osmosed to the center of the venue. "Slow seduction, fuck the introduction/ I'm here to bust it open for you, no interruption," he rapped, boasting the same mix of technical skill and stage presence that he's been boasting since his first mixtape, Easy Bake Oven, Vol. 1, came out a half decade ago. What he's boasting has only grown stronger on his debut full-length album, Hedonism, released a couple of Fridays back on Ruffians. Listening to it, I wonder if even more people will stop hugging the walls and pay attention to the formidable talents Cakes is, and has been, bringing to the floor. Maybe it doesn't matter. The Jersey-born rapper will keep doing what he's been doing for years now, whether you join him in the center of the room or not.
There's plenty to pay attention to on Hedonism. The album—which features collaborations with Calore ("Keep It Goin'"), Peaches ("Up Out My Face"), Rye Rye ("Gon Blow"), and Josh Dst ("Tru Luv"), along with production by LSDXOXO, Jeremiah Meece, BoyGenius, and more—is not the more literal personal statement record that one might expect from an artist making their debut. Rather, it sounds like a bigger and better version of the nearly half a dozen EPs and mixtapes of Cakes' that preceded it. His delivery punches harder and his enunciation is more anti-Ariana Grande than ever. His Rube Goldberg machine-precise flow has never been more focused, and the boundary-pushing transcontinental club beats buoying his complexly interlocking lyrics are unlike any you'll find in his back catalog, much less anywhere else in the genre.
This "myself, but better than ever" approach was intentional, Cakes said in a phone interview a couple weeks back, but he insisted that the keyword is still "myself."
G/O Media may get a commission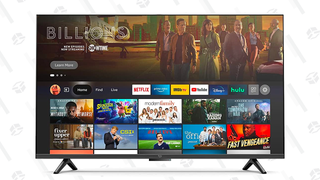 22% off
Amazon Fire TV - 50" Omni Series 4K - Early Access Deal
"My album's a good introduction for people who are not tapped into the underground and are not familiar with me or my work. It's a 'Hello' to them, but then it's also a 'Hey, girl, what's going on?' to anyone who's been listening to me for years," he told me. "I've kind of been straddling this line. I could perform at a GHE20G0TH1K party and be on the pulse of what's going on in the New York underground scene and then go do a track with Red Bull or Converse. I'm always going to be an underground artist for the degenerates, for the tastemakers of the world. But I don't mind moving into that mainstream realm of capital," he added with a laugh.
Storytelling has always been one of Cakes' strong suits, but on Hedonism he stretches those narrative abilities to the album as a whole, weaving a cohesive tale of international club-hopping, making out, and breaking up. The LP, written and recorded over two years, dips and weaves from layover to layover on its way from Berlin to Bed-Stuy, and the sounds contained therein reflect that continental shift. Juxtaposing all of those elements together was crucial, Cakes told me, as was making each and every one of them too strong to be denied. The beats are there for the European festival crowd. The lyricism's there for the hiphop purist, even the straight one who might not know what to make of an openly gay rapper giving male-on-male bratty bb Hard Core-era Lil' Kim. It's a difficult balance to strike, and Cakes won't hand-hold anyone to recognizing his talents. ("I don't pay for beats, I don't fuck for likes," he says on one Hedonism track.) But hey, Cakes is a Libra, after all. Balance is what he knows best.
Cakes' sexuality has been a part of his media narrative since the jump, often as part of a greater story about queer representation in hiphop alongside artists like Le1f, Mykki Blanco, Azealia Banks, Zebra Katz, House of LaDosha, and others. (One of the earliest of these features was Carrie Battan's "We Invented Swag: NYC's Queer Rap" for Pitchfork back in 2012.) Cakes said he understands why he's frequently written about in the context of his queer peers: "We're pioneers in terms of visibility." Still, he wishes that the ratio of reporting that focuses on his sexuality versus reporting that focuses on his music were more evenly tipped towards the latter, especially when it comes to LGBTQ outlets, many of which already have a pretty spotty record when it comes to covering queer people of color.
Not that he's always been given a fair shake by the more music-oriented rap outlets, which have their own unique way of getting hung up on his gayness. In one particularly cringe-worthy 2014 interview on HOT 97's "Ebro in the Morning," co-host Peter Rosenberg asked Cakes if it's "directly penis that excites you the most" as a means of asking what it means to be gay. Cakes actually sampled a more recent "Ebro" interview on Hedonism's closing track, "Revelations." Rosenberg raves about him to another artist, stating firmly and clearly that "there should be Cakes Da Killa" in the industry.
"I included it because for me, a gay kid who grew up listening to Ebro and Peter, to have that kind of impact is really cool," Cakes said. "In hiphop, he's one of the gatekeepers."
The others are welcome to stop hugging the walls at any time. The dance floor's fine.
Bad at filling out bios seeks same.