Pacific Gas & Electric, the California power utility that may have played a role in causing November's disastrous Camp Fire, could face criminal charges as serious as murder, according to a report from CBS affiliate KPIX. The list of charges came in a brief released by California's attorney general.

From KPIX:
If a jury finds PG&E guilty of criminal negligence or recklessness, the utility could face criminal charges that include:

Failing to clear vegetation from a power line or pole;

Starting a wildfire;
Involuntary manslaughter, or

Implied-malice murder.
"If PG&E caused any of the fires, the investigation would have to extend into PG&E's operations, maintenance, and safety practices to determine whether criminal statutes were violated," Deputy Attorney General Nicholas Fogg wrote in the brief.

The Camp Fire, which tore through Northern California in November, was the most destructive and deadly wildfire in California history, killing 86 people and destroying more than 19,000 structures, mostly homes.
But the Camp Fire isn't the first disaster to which PG&E may have contributed. The Northern California fires in fall of 2017, which were previously the most destructive and deadly in state history, have been attributed to the utility as well. PG&E was also convicted of six felonies for their role in the 2010 San Bruno gas pipeline explosion.
G/O Media may get a commission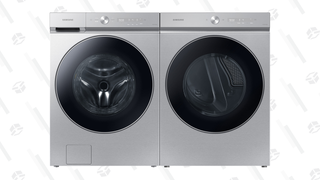 Get $500 back in credit
Last Chance: Samsung Bespoke AI Washer and Dryer Preorder
Even if PG&E is charged with and convicted of murder, no executives will face jail time, a frustrating reality for activists who want the utility held accountable.
"Even if it's a murder conviction against a corporation, the corporation is not going to prison. Nobody is going to prison," former Judge Ladoris Cordell told KPIX.
"Customers want to see actual people held accountable," Mindy Spatt of The Utility Reform Network, an advocate for utility customers, told KPIX. "There are actual individuals at PG&E who are making these decisions and in many cases, we're talking about individuals who are receiving multi-million dollar pay packages on customers' dime to do so."
"Until someone goes to prison for these actions, we're not going to see the change in culture. We're not going to see a change in behavior unless someone actually spends some time behind bars," State Senator Jerry Hill told KPIX.
Leftist groups like the Democratic Socialists of America have pushed for the state to take over the utility. (I am a member of a different DSA chapter.)

"PG&E's history of poor maintenance and resistance to life-saving infrastructure improvements has forced Californians to pay a steep price for their utilities," the Chico chapter of DSA wrote in a statement posted on Twitter in November. "The time has come for the state to take over and reform PG&E."
This was once a fringe position, but after outcry over the Camp Fire, the state is now considering doing just that, according to The Mercury News.
The California Public Utilities Commission announced earlier this month that they will investigate PG&E's "safety culture by examining the company's current corporate governance, management and structure to determine the best path forward for Northern Californians to receive safe energy service."
The commission listed seven possible actions it could take against the utility, from removing existing PG&E directors to reconstituting it as a public utility.
"It is about time that the CPUC realized there must be fundamental change at PG&E in order to get the safe, reliable power that California customers pay for through the nose," Mark Toney, the executive director of the Utility Reform Network, told The Mercury News. "Whether it is a break up, management change, board shake-up, or takeover by the state or another company—the one thing we cannot afford is business as usual."