The Immigration and Customs Enforcement Agency has allegedly showed up twice to California workplaces intending to arrest undocumented workers who are trying to get their employers to pay them what they're owed, the Los Angeles Times reported this week.

According to the paper, state officials are investigating the incidents as alleged employer retaliation, and fear that if it doesn't stop soon, workers will be afraid to report unfair and illegal labor practices in the future.
It is illegal for employers in California to report their workers to federal immigration authorities as retaliation.
The state's Labor Commission makes it clear that it protects all workers, regardless of immigration status. From its website:
It does not matter where you were born or whether you have papers to work.
The Labor Commissioner's Office will not ask about your immigration status or report your immigration status to other government agencies.

You do not need a social security number or photo identification to file a claim or report a violation.
G/O Media may get a commission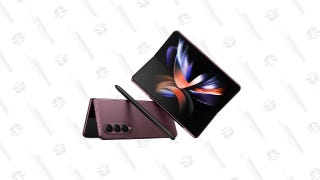 Save Up to $300
Galaxy Z Fold4
The Commission, which handles disputes like when employees allege their employers owe them money or have been retaliating against them, sensed something was wrong after ICE agents showed up twice to labor dispute proceedings in two of its Southern California offices mere minutes before certain workers' cases were to be heard, the Times wrote.
California Labor Commissioner Julie Su told the paper that she thought the employers may have told ICE the identities of the workers, and the times of their hearings.
If so, that could be considered textbook retaliation.
Su also told the newspaper 58 workers have reported "immigration-related threats" from their employers to the Labor Commission so far in 2017. That's compared to 14 in all of 2016.

Last month, the Labor Commission sent a memo to employees instructing them to refuse to let ICE agents enter Labor Commission offices, and to not consent to "entry or search" of Labor Commission offices without a signed warrant from a judge, the Times wrote.
The reports of the unexpected ICE appearances mark the latest in a year marked with increased ICE activity. ICE has been allegedly seen arresting a father taking his daughter to school, a teen right before his high school prom, a father on his way to pick up his son from the hospital, and any other undocumented people "encountered in the course of their duties." And just this week, ICE announced the arrests of 650 people around the country in four days, including 38 minors and 457 so-called collateral arrests—that is, people who were not directly connected to the ICE investigation at hand, but were nevertheless detained.
In fact, the agency is arresting so many people that the country's immigration courts are already severely backlogged. 
This has caused fear in the undocumented community and forced creative solutions from activists, with some going as far as to seek literal sanctuary in churches. 

In a statement emailed to the Times, an ICE spokesperson explained that federal immigration officials "conduct targeted enforcement actions every day in locations around the country in accordance with their sworn duty and legal authority to enforce more than 400 federal laws and statutes, including crimes involving labor trafficking and egregious worker exploitation."