Several states are resisting President Donald Trump's authoritarian targeting of undocumented immigrants in the United States, but perhaps none as much as California.
State lawmakers already are working to pass the California Values Act (SB 54), which essentially would drive a wall between federal and local law enforcement to protect immigrants from being deported.
On Friday morning, assembly member David Chiu, a Democrat from San Francisco, joined workers from the Service Employees International Union (SEIU) California, and the California Labor Federation to present the Immigrant Worker Protection Act (AB 450), which would protect workers from abusive Immigration and Customs Enforcement (ICE) workplace raids.
Past raids, Chiu's office noted, violated workers' rights because ICE used individual warrants to sweep up all workers at a site, including U.S. citizens.
SEIU President David Huerta called AB 450 "California's latest and boldest challenge yet to the Trump deportation force that has mercilessly targeted immigrants despite their significant contributions to our communities and our economy."
G/O Media may get a commission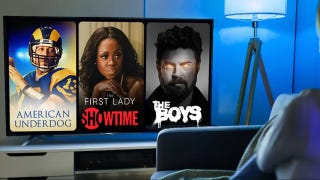 UNDER $1
99¢ Prime Video Channels
Speaking about his commitment to the bill at San Francisco's Saint Agnes Church, Chiu—who is a son of immigrants and a former civil rights attorney—said he had reflected on how he left his house that morning:

My young son waved goodbye to me as I went to work. Unfortunately, under Trump America, as children wave goodbye, there are 11 million Americans who are unsure whether they are going to come home from work. Donald Trump has declared war on 11 million Americans who are undocumented because of the failure of Trump and his Republican allies to enact comprehensive immigration reform.
Chiu noted that in California, the sixth-largest economy in the world, 45% of farmworkers, 30% of restaurant workers, and 21% of construction workers are undocumented. More than 2.5 million undocumented workers contribute $180 billion to the state's economy, he said, citing figures from the Public Policy Institute of California.
With Trump's proposal for 10,000 additional ICE employees, lawmakers in California say they are expecting more workplace raids that "rip apart working families" and that are "bad for employers," the assembly member said.
Winifred Kao, litigation director for Asian Americans Advancing Justice–Asian Law Caucus, added that, "Unfortunately, we often see employers exploit workers based on their immigration status. AB 450 takes key steps to prevent that abuse and sends an important message that we will not tolerate the exploitation of our immigrant communities."
If passed, AB 450 would provide employers with clear-cut standards to ensure that "disruptive raids" are conducted legally, according to Chiu.
The bill would require employers to ask for a judicial warrant before granting ICE access to a worksite. It would prevent employers from sharing confidential employee information without a subpoena. It would also require employers to notify the Labor Commissioner and employee representatives of tax audits. And it would prevent employers from retaliating against employees who report labor violations.
AB 450 was coauthored by State Senator Scott Wiener and assembly members Phil Ting and Rob Bonta. Assembly policy committees will study the bill in April.