Police in El Cajon, CA, shot and killed an unarmed black man, 30-year-old Alfred Olango, on Tuesday afternoon, causing protests to break out in the San Diego suburb.
Police claimed to be responding to reports that Olango was walking in and out of traffic by a strip mall, as well as to a phone call by a woman who identified herself as Olango's sister. The woman informed police that her brother was mentally ill and that he needed their help.
But two officers responding to the call opened fire on Olango simultaneously with a pistol and a Taser, killing him.
Witness and police accounts of how the shooting happened differ. Lt. Rob Ransweiler said at a Tuesday press conference that officers opened fire because Olango did not "comply with directives" and that he "rapidly drew an object" with both hands on it "like you would be holding a firearm." But multiple people told the San Diego Union Tribune that they saw Olango being confronted by officers with his hands in the air.
G/O Media may get a commission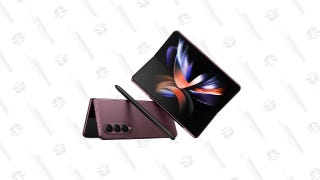 Save Up to $300
Galaxy Z Fold4
Regardless of the differing accounts, no one disputes that Olango was completely unarmed.
El Cajon Police Chief Jeff Davis said at a Tuesday press conference that video shot by a bystander verifies the police's version of what happened and released a still frame appearing to show officers and Olango pointing weapons at each other. But Davis said the department would not release video collected from witnesses until the district attorney has had a chance to review the evidence.
None of that video includes footage from police body cameras, which the El Cajon officers do not have.
Video of the immediate aftermath of the shooting is publicly available thanks to bystanders who broadcast what they saw to Facebook Live. A Facebook user identified as Rumbie Mubaiwa said in her broadcast that she began recording the crime scene ten minutes after the shooting happened.
The video shows a distraught woman talking to police who appears to be Olango's sister.
"I called for help, I didn't call for you guys to kill him!" she said.
The video also shows a woman who said she saw what happened filling out a police statement.
"I said: 'Take your hand out your pocket, baby, or they're going to shoot you.' He said 'no, no, no,' " the woman said. "When he lifted his hand out … he did have something in his hand but it wasn't no gun, and that's when they shot him."
Later in the day, a large crowd of demonstrators from the community began to gather, first a at the crime scene then later on at the police station, to protest Olango's death.
Protests continued through the city on Wednesday as police deployed officers in riot gear in response.
A relative of Olango's, Agnes Hassan, said at at Wednesday morning news conference that the shooting victim was a Ugandan refugee and that their family had come to the U.S. to make a better life, according to the Los Angeles Times.
"We suffered too much with the war in Africa … we come here to suffer again," she said.
This is a developing story and will be updated as more information becomes available.