The Cambodian government is using an unorthodox method—giant trained rats—in their efforts to address the country's land mine problem, the Bangkok Post reports.
This is them at work:
Unexploded devices including mines and unexploded shells have killed nearly 20,000 Cambodians since 1979, according to the Cambodian government, and another 44,000 people have been injured.
Fourteen large rodents, imported from Tanzania, have arrived in Cambodia and are being trained to sniff out explosives. They will be tested in the field before being added in greater numbers to the anti-land mine plan.
G/O Media may get a commission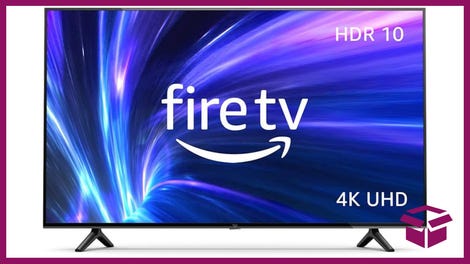 42% Off
Amazon Fire TV 50" 4K Smart TV
"Our plan to test, we believe, will take three to four months to complete," Heng Rattana, director of the Cambodian Mine Action Center, told the Phnom Penh Post. "We just started testing this month."
A Belgian nonprofit, APOPO, began training the rats in Tanzania 15 years ago, with a six-step process than involves socializing the rats with humans and then teaching them to recognize explosives and alert their human handlers.
The organization's founder, Bart Weetjens, had pet rats as a child. "Years later, this relationship would yield more than just friendship; it would offer the opportunity to help change a world where landmines pose a threat to life and progress," says the APOPO website. They have had some success with land mines in Tanzania, Mozambique and a few other countries.
Part of the appeal of using rats instead of mine-detecting dogs is the cost: a dog costs around USD$10,000, while a rat is much cheaper to buy and keep, according to the Bangkok Post. And because rats are more lightweight than dogs, there's also a lesser chance of them setting off the land mines they're detecting.
There are still approximately 9,000 separate areas in the country which have not been cleared of land mines, MAG International, another nonprofit which aims to eradicate land mines globally, reports. Land mines and unexploded ordnance have been on Cambodian land since the Vietnam War and have persisted in the country through civil war and the brutal Khmer Rouge dictatorship that followed.
In 1999, Cambodia signed the Ottawa Convention to eradicate land mines. They failed to meet the first 10-year deadline to clear the country, and are now aiming to be land mine-free by 2019.