Colombian businessmen launched a campaign this week urging people to reflect on what they can do to make their country a more peaceful place, at a time when President Juan Manuel Santos is struggling to drum up support for ongoing peace talks.
The campaign, called "Soy Capaz" or "I'm Capable," is calling on Colombians to pause and consider how they might be able to contribute to bringing an end to nearly 50 years of war.
Commentators from the country's top radio stations hosted a joint program on Monday and talked openly about ways they felt they could help achieve peace.
"I am capable of promoting a kind of journalism that helps unite us … that listens to different opinions and seeks to go beyond what's marketable," said Yolanda Ruiz from RCN, the country's second-largest radio network.
G/O Media may get a commission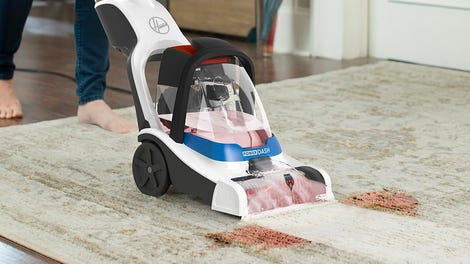 26% Off
Hoover PowerDash Pet Compact Carpet Cleaner
"We are capable of forgiving and listening and thinking before we say things that are hurtful," added William Vinazco from radio station Candela Stereo.
The 20-minute radio program marked the start of a public campaign backed by Colombia's largest business group. The "Soy Capaz" campaign also includes radio jingles and signs displayed in Colombia's largest supermarket chains.
"The message we want to give, is that this is something so big, that everyone has to be involved," said Bruce Mac Master, the president of Colombia's National Association of Industrialists.
"Everyone has to lay down a brick if we are going to build a future where differences are not solved through violence," said Mac Master, a former investment banker.
Organizers told Fusion the campaign will also involve companies changing the packaging of some of their products to white, the color of peace, with messages like "I am capable of forgiving."
Despite these clever strategies, which also include Bogota's top two soccer teams trading jerseys during their next match, there is some skepticism towards the campaign.
Critics point out that "Soy Capaz" is being rolled out as polls show that a majority of Colombians do not believe a peace deal will be reached. Some question whether the campaign will be linked to government efforts to create a political climate that favors the talks.
"There is quite serious opposition to the peace talks, led by former President Alvaro Uribe," said Adrian Alsema the editor-in-chief of the Colombia Reports news site.
The talks have lost legitimacy for many reasons, like ongoing guerrilla attacks in the countryside, fears that kidnappers and murderers will not be punished for their crimes, and the lack of information on what both sides agree to in Cuba, Alsema added.
A survey conducted in August by the polling firm Datexco suggests that only 42 percent of Colombians agree with how Santos is handling talks with the FARC.
"When it comes to the peace talks, this is still a very polarized country," Alsema said.
Organizers of "Soy Capaz" acknowledged that their campaign has been launched at crucial time during the peace talks but deny any connection to the government or its public relations strategies.
"Santos talked about peace during his re-election campaign and some people equate the concept of peace with him now," said Ana Maria Duran a spokeswoman for the "Soy Capaz" campaign.
"But the aim of this campaign is to end that political association, and give peace the importance it deserves, as a fundamental right of any human being."
Manuel Rueda is a correspondent for Fusion, covering Mexico and South America. He travels from donkey festivals, to salsa clubs to steamy places with cartel activity.