Warning: the following video is graphic
A grand jury has indicted University of Cincinnati police officer Ray Tensing on charges of murder, following the shooting of Samuel DuBose during an off-campus traffic stop earlier this month.
"This is without question a murder," Hamilton County Prosecutor Joe Deters said on Wednesday. "It was a senseless, asinine shooting."
The prosecutor appeared shocked at a body cam video of the shooting. He spoke bluntly about the incident, which he said should never have occurred.
"It's ridiculous that this happened," he said. "This is bad police. Look, every occupation has people that shouldn't be doing it. You probably know it in your own line of work… [DuBose] didn't do anything violent toward this officer, he wasn't dragging him. And [Tensing] pulled out his gun and intentionally shot him in the head."
Dubose, a 43-year-old father of 10, according to the Cincinnati Enquirer, was unarmed at the time of his arrest. He was pulled over for lacking a front license plate on his car. He did have a rear license plate.
G/O Media may get a commission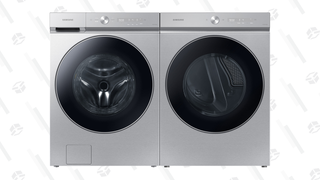 Get $500 back in credit
Last Chance: Samsung Bespoke AI Washer and Dryer Preorder
"I knew that my son was a righteous man," mother Audrey DuBose said at the news conference. "If my son is righteous and he got killed, then somebody had to be wicked here."
"I'm so thankful that everything was uncovered," she added, quoting from the Bible during her statement.
If convicted of the murder, Tensing could face up to life in prison.
In an initial report, Tensing claimed that he was being dragged by the vehicle when he opened fire on it. Deters, the district attorney, said the dash-cam footage disputed that claim, and alleged that Tensing intentionally misled multiple investigators.
"I don't think a university should be in the policing business," Deters said, adding that city police should patrol the university and surrounding area.
Other city officials had previously commented on the dashcam footage of the shooting. "It's not a good situation," said Cincinnati city manager Harry Black before the video's release. Dubose's family is calling for calm from the community. The University of Cincinnati has cancelled classes on Thursday, following the grand jury announcement.
Former officer Tensing had turned himself in to authorities shortly after the announcement, WCPO reported.
"I could care less what his motivation was," Deters said in announcing the murder indictment. "I just know that he intentionally killed somebody."
Daniel Rivero is a producer/reporter for Fusion who focuses on police and justice issues. He also skateboards, does a bunch of arts related things on his off time, and likes Cuban coffee.