So what's Cam'ron been up to lately? Oh, you know, just dubbing himself a #Trendsetter. It's been a minute since the New York rapper's last Hot 100 entry, the 2004 track "Down and Out." ("Hey Ma," his biggest mainstream hit ever, came some two years before that.)
But he's held on to his cred, and a healthy audience niche of devoted fans of New York-style hip-hop. (It probably kinda helps, too, that he boasts a regular program of blogged-about beefs, alongside albums produced by the untouchable Araabmuzik.)
But so what if his last effort, a 2011 joint album with Vado, Gunz n' Butta, didn't yield any Billboard Hot 100 singles? He's got another album, Killa Season 2, due out this year. But what might really catapult him back into the public eye is his new foray into fashun.
Specifically, a "capeline." That's a line of capes, which he announced last Thursday on Instagram.
G/O Media may get a commission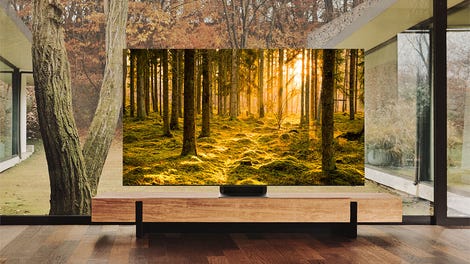 Up to 40% off
Samsung Smart TVs
Cam's been trying to make the cape thing happen since the new year. Just a couple of weeks ago, he rocked a white one, custom-embroidered with "Dipset" on it, to a Super Bowl event.
And he wore one onstage during a 2 Chainz performance last week. (Turn your speakrs off if you are around sensitive ears.)
Of course the internet's got jokes, especially on Twitter.

KNOCK KNOCK WHO'S THERE KILLA CAPE KILLA WHO http://t.co/wbt1RM6Oja— ✨Carbsten Lapizza✨ (@klapisimo) February 10, 2014
Guess what though? Sure, capes will drag all over the place and create new annoying dry-cleaning errands, more ridiculous garments have become accepted in mainstream hip-hop.
Nobody bats an eye when Kanye wears a leather skirt any more.
What hip-hop needs is way less heternormative swagger, and more clothing along the lines of skirts and capes. So go Cam, we're with you when you post #HateNowCapeLater!
Arielle Castillo is Fusion's culture editor, reporting on arts, music, culture, and subcultures from the streets on up. She's also a connoisseur of weird Florida, weightlifting, and cats.