Uber has run into another roadblock, this time in Latin America.
This week, hundreds of taxi drivers blocked streets across Mexico City urging city authorities to ban the ride-hailing service. Uber, in turn, responded by offering free trips for the day while promoting social media hashtag #UberDoesn'tStop. The tit-for-tat response was typical of how the company has at times responded to heavy regulatory scrutiny and fierce blowback from taxi unions as it expands into global markets.
Uber's push into Latin America is putting it on a crash course with some of the world's most powerful —and at times violent — taxi unions. Uber has faced difficulties elsewhere around the globe, but the stakes could be particularly high in Latin America, where taxi unions are politically well-connected, well-organized and always up for a good fight.
"This is the beginning of the fight to defend our jobs," said Eleazar Romero, a taxi leader in Mexico. "We aren't opposed to technology. We aren't opposed to competition. The only thing we're asking for is a level playing field for everyone."
Across Latin America, taxi unions wield a tremendous amount of influence, with an ability to quickly mobilize hundreds, if not thousands, into the streets. And some aren't shy about adopting hardball tactics.
G/O Media may get a commission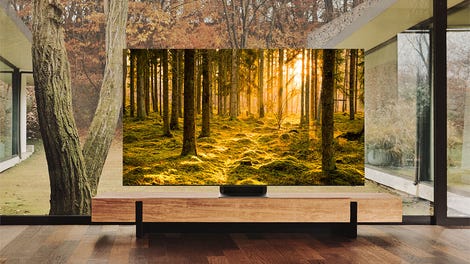 Up to 40% off
Samsung Smart TVs
And in many countries, the government has the union's back. The taxi industry is heavily regulated in most of the hemisphere, and governments are sensitive to potential job losses — and lost votes.
But Uber is shiny and new, which is a competitive advantage in a region of rattletrap taxicabs. If any region in the world could use an upgrade in the quality of its taxis, it's Latin America. Traveling by taxi in some countries can be a harrowing experience. Cars can be downright filthy — and some were built in countries that no longer exist. Springs can poke out of seats and into trousers. Many times seat belts are missing, or stain your clean shirt if you buckle up. Even worse, criminals groups are known to use taxis to kidnap or extort passengers.
While Uber drivers can't protect passengers from kidnapping, the fact that they are unmarked private cars might make them less of a target for gangs that hit taxicabs.
That reality has made Uber's incursion into the region a compelling alternative. During Monday's protest in Mexico, citizens supporting Uber took to social media using the hashtag #UberSeQueda, or "UberStays" in support of the company, briefly turning it into a top trending topic on Twitter.
"The model that makes taxi drivers mad! #Uber Stays #It's here to stay #A monopoly that's                 disappearing #Dying slowing"
The battle isn't only in the street, but also in courtrooms. Taxi unions have mounted a slew of legal challenges across the region. As in other contested markets, the unions say the mobile car-hailing service is effectively operating like a taxi, but without meeting the regulatory and licensing requirements. Uber argues it is operating within current laws in each country.
Uber is currently operating in six countries in Latin America: Brazil, Chile, Colombia, Mexico, Panama and Peru. Here's a look at the company's strategy in several key countries and some of the challenges it faces:
MEXICO
In Mexico, Uber has teamed up with billionaire Carlos Slim, whose America Movil telecom company dominates the Mexican market. Under the deal, the Uber's app is being promoted on smartphones using America Movil's Telcel service.
The partnership is expected to extend to other countries in Latin America. "America Movil will be a key provider of new drivers throughout the region and will help bring Uber more users," said Luis De Uriarte, head of communications for Uber Mexico.
Mexican city authorities plan to hold public discussions over how to best regulate services like Uber, which are not contemplated under current law. On Thursday, the governor of the State of Mexico, which surrounds Mexico City, effectively banned Uber from functioning in the state for now. "The service of Uber is not formally authorized in the state and we're not going to make a decision without listening to the Taxi Drivers Association," said Gov. Eruviel Avila Villegas.
COLOMBIA
Uber has positioned itself as a private-hire car service in Colombia, where there has been a rash of incidents of taxi drivers reportedly kidnapping passengers and forcing them to withdraw money from ATMs. That's made Uber popular with thousands of well-to-do Colombians.
Some Colombians say they prefer Uber simply because the riding experience is better than taxis. "With Uber, you can actually pick the radio station you want," says Laura Sanchez, an insurance company employee. "It's the only service that waits for me as long as I need."
Jamie Valero, an executive for TaxExpress, one of Bogota's largest taxi companies, says that Uber has successfully tapped into a market for high quality cab service that was previously "unexplored." But like many members of the taxi industry, Valero is critical of Uber. "They are using cars that are not licensed for public service, it's unfair competition," he said.
There are also signs that taxi unions are looking for ways to influence regulators as authorities consider how to deal with Uber. In March, Colombian media published a leaked conversation between taxi leader Fredy Contreras and other drivers in which he claimed he could arrange a protest of at least 1,000 taxis at a moment's notice.
"In Bogota, if we don't show our disagreement, if we don't paralyze the city, we won't be able to do anything," Contreras was quoting as saying.
Earlier this year, some Uber drivers in Colombia reported that taxi drivers threw stones and repeatedly screamed at them.
BRAZIL
Uber arrived in Sao Paulo last year with a splash, using Victoria's Secret model Alessandra Ambrosio in an ad to promote the arrival of the company to Latin America's biggest metropolis.
Not everyone rolled out the red carpet. Uber immediately faced lawsuits filed by taxi unions. But earlier this month a Sao Paulo appeals court overturned a ruling that had suspended Uber's operations, allowing the company to legally resume services. Taxi unions are challenging the ruling.
Sao Paulo taxi drivers have called on Uber to allow them to use their technology, pointing to other taxi apps used by drivers.
Taxi drivers have also launched a Facebook campaign with this emblem:

ARGENTINA
Argentina could be the next battleground for Uber, which isn't currently operating there but may be planning to. Taxi unions aren't waiting for the company's announcement; they've already started to organize against the company, after several union leaders said they spotted a Uber job ad on LinkedIn earlier this year, according to the Argentine newspaper Clarin.
"We're going to call on the Buenos Aires city government to not allow Uber," Enrique Celi, a taxi union leader told state-run news agency Telam. "There is no regulatory structure for it to work."
Iván Luzardo is a Colombian journalist with a focus on technology, economics and business topics. He is a visiting fellow at Fusion, and loves soccer, travel and digital trends.

Manuel Rueda is a correspondent for Fusion, covering Mexico and South America. He travels from donkey festivals, to salsa clubs to steamy places with cartel activity.
Rafa Fernandez De Castro is a Fusion consultant for Mexico and Latin America. He covers Mexican youth, politics, culture, narcos and funny stuff once in a while.
Sabrina Passos is a journalist who coordinates special projects for a Brazilian newspaper Zero Hora.