When Karen Talosig came to Canada from the Philippines in 2007, she knew that to give her daughter a better life, she had to leave her behind.
Like thousands of other Filipina women who come to the country under a government-sponsored caregiver program, Talosig gave up a professional job for work as a domestic servant, taking care of children and the elderly. In return, according to the policy, she would be entitled to claim permanent residency in Canada for herself and her daughter after two years.
But last month, after seven-and-a-half-years working in Canada, Talosig heard back from the immigration office: she was denied permanent Canadian residency status because her 14-year-old daughter Jazmine is deaf. The cost of special education for Jazmine would be too much of a burden on the country's safety net, the immigration office said.
"The wait has been so long, and now this," Talosig, who is submitting a final appeal of her application tomorrow, told Fusion. "It's so unfair."
G/O Media may get a commission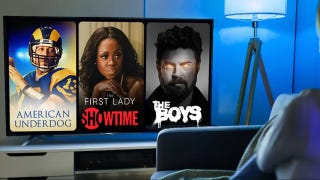 UNDER $1
99¢ Prime Video Channels
Many Americans think of Canada as a progressive paradise, where healthcare is free, gay marriage is old news, and migrants are welcomed with open arms.
But Talosig's case is just one example of Canada breaking its promises to some of the thousands of Filipina women who have been admitted to the country since the '90s under the Live-in Caregiver Program, a government-run labor policy to place migrants from developing countries in caregiving jobs.
"Here she is serving Canada since 2007 and working for Canadian families and really serving them to make sure their families remain intact and their children are taken care of, and in return the Canadian government is pretty much telling her, no, you cannot reunite with your family," Roland Sintos Coloma, a Miami University professor who's studied the Filipino community in Canada, told Fusion.
"Sadly, this is hardly unique," he said.
'Servants of globalization'
As more upper- and middle-class Canadian women started working outside the home in the '70s and '80s, the demand for childcare workers—basically, nannies—grew. At the same time, the Philippines was facing economic instability and high unemployment rates.
Launched in 1992 and intended to be temporary, the Live-in Caregiver Program gave immigrants from developing countries a chance to come to Canada and work in childcare or elderly care for two years, after which they would receive permanent residency status for themselves and their children. Before long, Filipina immigrants became the caregivers of choice for Canadians: about 90 to 95 percent of the caregivers admitted to the program have been Filipina, Coloma says, and a large majority are women. (The country's immigration office declined to release statistics on the demographics of caregivers.)
"They wanted to target educated, English-speaking, capable workers who can come to the country for cheap wages," Coloma said. Filipinas fit that bill.
Now, the Philippines is the third-largest source of immigrants to Canada, after China and India. There were 16,000 immigrant live-in caregivers in Canada in 2013, according to government statistics, down from a high of 32,000 in 2008. The most plausible explanation for the decline, Ethel Tungohan, a postdoctoral fellow at the University of Alberta who's researched the program, told Fusion, are restrictions imposed by the country's current conservative government.
Canada's caregiver program is just one example of brain drain: many of the brightest young Filipinos are leaving their country to work abroad. About 10 percent of the Philippines' GDP comes from remittances that migrants abroad send home, Coloma said. Filipinos in Canada sent home more than $2.075 billion in 2014, according to data from the World Bank.
Filipina domestic servants also find work in the United States, Europe, the Gulf States, and Hong Kong. The immigrants, many of whom have professional jobs or university degrees in the Philippines—Talosig was a nurse before she left—resign themselves to domestic service in return for the immigration benefits.
"Filipinos are some of the most well-educated, credentialed immigrants in these countries, yet they occupy the lowest strata when it comes to job opportunities and income," Coloma said. "A lot of the job opportunities [in the Philippines] really can't compete with the money and resources that are elsewhere."
Until late last year, immigrants in the caregiver program were required to live in the homes of their employers, a policy that put many at risk of abuse or harassment. If caregiver complained and were fired by their employers, they could be deported.
"They do not have the health benefits, pension plans, workers rights that other workers have," Coloma said. "They're really put in a very vulnerable position."
A temporary Filipina worker at a Canadian McDonald's who was hit by a car and disabled two years ago was not only denied health insurance but also fired and put under threat of deportation because she can no longer work.
According to scholar Rhacel Salazar Parreñas, who wrote a book on Filipina domestic workers, they are "servants of globalization," exploited by a global system in search for cheap labor. But in the Philippines, the women who travel thousands of miles for the chance at a better life for their children are known as "the new heroes of the nation."
"[That term] really applies to us," Talosig said, laughing. "Some people online say, 'You're abandoning your child.' No, they don't know the sacrifices that I'm doing right now, just being away from my family."
Years of waiting
Talosig first came to Vancouver to find "greener pastures" and more opportunity for her daughter, who would face discrimination for her disability in the Philippines. "It was my dream to come to Canada," she said.
As a live-in-caregiver, she says she first worked in November 2007 for a family who demanded too much of her and fired her without cause. But she found a stable employment situation in the home of Helene Whitfield, who told Fusion that Talosig raised one of her daughters "basically in lieu of raising her own."
While Talosig has looked after Canadian families' children and elderly, her own daughter Jazmine lives with her grandparents near Tuguegarao, in the northern part of the Philippines. She takes a three-hour bus ride to a boarding school for the deaf every week, but the conditions there are depressing, Talosig said, sometimes with no running water for days. Her grandparents don't communicate well in sign language, and while Jazmine Skypes regularly with her mother, she doesn't have much of a life outside of home.
"I know that when she gets here she'll have a better future," Talosig said.
After working for two years as a live-in caregiver, Talosig was eligible to apply for permanent residency status, and she submitted an application for her and her daughter in early 2010. Meanwhile, she got a new work visa that allowed her to live outside her employers' homes.
But Talosig's application for permanent residency was preliminarily denied last year, after an immigration official in Canada's Manila consulate found that putting Jazmine through special education would be too costly for the country's public school system.
When she first received the rejection letter, "I was totally devastated, and then I said this is wrong, it is unfair," Talosig said.
She appealed the decision, and after her appeal was rejected last month, she went to the media and started a petition drive. Her case was even raised during a debate in Parliament over immigration policy.
Talosig's last chance is a direct appeal to the immigration minister, Chris Alexander, and she plans to send him a file of all her documentation on Thursday. Immigration ministers have stepped in and overridden rejections in previous cases, Talosig says, and she's optimistic he'll do the same for her.
A spokesperson for Alexander referred all requests for comment to the immigration ministry.
Nancy Chan, a spokesperson for the ministry, confirmed that Talosig has been given additional time to submit paperwork, but declined to comment further on the decision to deny her application.
The caregiver program does say up front that applications for permanent residency can be affected if an applicant has "a criminal record or a serious medical problem." Generally, "applicants who have a serious health or medical condition that could pose an excessive demand on Canadian health and social services may be denied entry to Canada," Chan said in a statement. "Decisions are based on the probable impact of the condition, the need for treatment, the costs of treatment and the impact on waiting lists in Canada."
An excessive demand, she said, is defined as costing the social system more than $6,387 CAD per year. The Manila consulate estimated that it would cost Canada $91,500 CAD to put Jazmine through five years of special education, according to the Vancouver Sun.
But Talosig says that was a bureaucratic error: Jazmine, who is going into 10th grade, will only need three years of schooling, and the Vancouver school for the deaf that she has been admitted to has certified that she will not cost the government more than any other student.
"We do not anticipate any additional costs to educating Jazmine at the B.C. School of the Deaf, beyond the regular per pupil funding for all students in [British Columbia]," Heather Hart, the Assistant Superintendent of the Barnaby School District, wrote in a letter that Talosig plans to submit to the immigration office.
"Jazmine doesn't have any medical illness, any communicable disease, or have to go to a hospital," Talosig. "She doesn't want any special assistance here in Canada, and they know that."
Susan Masters, the executive director of the Western Institute for the Deaf and Hard of Hearing, a Vancouver social services agency, said Talosig's case appeared to be clear discrimination against someone with a disability.
"It's very disturbing and very inconsistent," Masters told Fusion. "When you start putting price tags on people, saying 'You're OK, you don't cost a lot, you can come in,' that's not typically how Canada operates." She pointed out that denying Talosig's admission on the grounds that Jazmine is deaf could violate the U.N. Convention on the Rights of Persons with Disabilities, which Canada is a signatory to.
As messed up as the U.S. immigration system is, it isn't this bad. Hadley Bajramovic, an immigration attorney in Riverside, Ca. who specializes in deaf clients, told Fusion that she couldn't imagine an immigrant getting rejected in the U.S. because of their deafness.
"That would not happen here," she said. It would be a "clear violation" of the Americans with Disabilities Act.
Talosig's work permit expires in August. After that, if she isn't approved for permanent residency, she could apply again just for herself and not for Jazmine. But Talosig says she refuses to stay separated from her daughter any longer.
"I don't have the option of just leaving Jazmine back home—that's not an option for me," Talosig said.
Casey Tolan is a National News Reporter for Fusion based in New York City.