The Canadian government announced on October 6 that it had reached a proposed settlement with survivors of the Sixties Scoop, a term that describes the forced removal of tens of thousands of Indigenous children from their homes during the latter half of the twentieth century.

Once removed, usually without the consent of their parents, the children were placed into the Canadian child welfare system. Many were adopted into the homes of middle-class white families and, with their records altered by the state, didn't learn the full extent of what was done to them until years later. Some still don't know.
The bulk of that $800 million settlement, reached after an eight-year legal battle, will go to individual survivors, with a maximum payout of $50,000 each. $50 million will go towards a foundation focused on funding reconciliation initiatives. Crown-Indigenous Affairs Minister Carolyn Bennett hopes the proposed settlement will "begin to right the wrongs" caused by the Sixties Scoop. Not every survivor is so optimistic.
"I don't know what dollar amount to put on a lifetime of loss, but $50,000 seems pretty low," Colleen Cardinal tells me. Some of the plaintiffs in the case against the government, she says, didn't find out about the settlement until the day it was announced. And there are logistical questions to be resolved: If more than 20,000 survivors make a claim, that maximum payout will be significantly reduced. Cardinal has been minimized by the government too often not to be skeptical of the settlement.
G/O Media may get a commission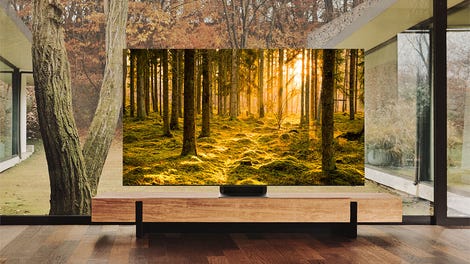 Up to 40% off
Samsung Smart TVs
"The state is congratulating itself and patting itself on the back, when it really hasn't done anything yet," she says. "All they've done is make an announcement about money. Until I see action, until they invite us to the table, I can't even speak of it."
Tired of waiting for a dinner invitation, Cardinal built a table of her own. She is the co-founder and coordinator of the National Indigenous Survivors of Child Welfare Network, a group based out of Ottawa that provides support and advocacy for Métis, Inuit, and First Nations people affected by the Canadian government's colonial child welfare system, a system that has more Indigenous children in it today than it did at the height of the Sixties Scoop. Cardinal says she and the others involved in the network began doing this work because, as she puts it, "there was nobody else doing it."
"There was nothing for us," she says. "We're the ones who have to do the educating in our communities. We're the ones who have to educate our doctors, our social workers. For instance, if I ever have to go to the hospital, I always have to tell them why I have post-traumatic stress disorder or why I have depression. I have to explain to them what the Sixties Scoop is. It's really hard for people to grasp the kind of harm that constant educating causes on top of the harm that's there in the first place."
Splinter spoke with Cardinal, three days after the proposed settlement was announced, to hear more about how the Network counteracts that harm and what justice might look like to her.
The interview has been edited and condensed for clarity.
How do you go about envisioning what justice might look like?
First and foremost, healing is integral to our work. It's at the center of what we do. For us to come to justice, we need to be in a good place.
We started doing this work four years ago because we want wellness for everybody, when they're ready for it. Part of that means holding space in an anti-oppressive way, making sure our spaces are accessible, safe, and inclusive so that we have ceremony for two-spirit and transgender people who may not otherwise got those services in their communities. We've had many transgender and two-spirit people come to our gatherings and say that this is the first time they really felt like they belonged. Not just, you know, to a transgender community or a two-spirit community but to an adoptive community, with their own people.
As for justice, justice to us looks like us leading the work. If the state wants to craft an apology, they need to consult us on what they're apologizing for. Survivors need to be at the table. An apology can't just be an apology. They need to ask us for forgiveness for what they've done to our families and our communities.
How would you describe the Canadian government's efforts to involve Indigenous people, specifically survivors of the child welfare system, in this process of reconciliation?

Well, so far it's been nothing. [laughs] All they've done is make an announcement about money. Until I see action, I can't even speak of it. We weren't even invited to the announcement. We had to get special security clearance just to be there. The plaintiffs didn't even find out about the announcement until the day of and were flown in the next day. They had no idea what was going on. Their lawyers were the ones who negotiated the settlement. It's very troubling that the plaintiffs didn't know.
Especially for something that, like you said, is a minefield of potential triggers for the survivors involved.
When the settlement was made, Chief Martel Brown, the main plaintiff in the Ontario class action suit, said something about how you can't make everybody happy. Well, then you shouldn't have settled. What you've done by settling is trigger thousands of people who feel like their losses are worth more than $50,000.
That works out to be, what, six or seven dollars a day? That's nothing. I don't know what dollar amount to put on a lifetime of loss, but $50,000 is pretty low. And to have our Métis and non-status brothers and sisters excluded is hurtful. These are people we do ceremony with, people we do healing with, people who are just as marginalized as we are. This decision has triggered thousands of people into a state of anger and defeat.
It's also woken up a lot of people. I don't know if the state intended to pacify people with this settlement, but what they've done is woken them up to the larger picture of injustice.
Here in the U.S., our education system does a terrible job of teaching us Indigenous history. How is it in Canada?

[Laughs] It's not very good. There's a deliberate lack of effort on the part of the Canadian government. As a person who teaches at universities and colleges, I've met a lot of first-year students who don't even know the basics of treaties in Canada.
I always start my presentations by asking if anybody can name all the provinces and territories. They'll all raise their hands and name them off. Then, I'll put the treaty map up and ask if anybody knows what treaty they live on. None of them know. As I tell them, that map right there is the making of Canada. Without those treaties, Canada would cease to exist. After I say that, you can hear a pin drop.
They have no idea about how the land was negotiated to share and the resources were negotiated to share with Indigenous people. When I teach it that way, they get it. The treaties are binding, just as binding as any other international treaty. That's why they refuse to share that knowledge with Canadians. As if it's our fault that we live the way we do. As if it has nothing to do with Canada not providing proper resources and funding to our communities.
There are more Indigenous children in Canada's welfare system today than there were at the height of the Sixties Scoop. Yet, the policies aren't exactly the same as they were back then. Would you like to speak to how those two things can both be true?
It's really just a continuation of the same policies. The only thing that's changed is on account of the Kimelman report—basically, they're not shipping children out of provinces or out of the country anymore. Now, they're warehousing them in foster homes and group homes. These kid get shuffled back and forth, and they end up either running away or aging out of the system and living on the street because there's not another place to them. Basically, we're looking at generations of children who are the products of residential schooling and the Sixties Scoop.
My mother is a residential school survivor. Then we were taken away from her. Then I spent my whole life trying to make sure that my kids weren't taken away because there's always that fear that child welfare will come and take our kids away. Then, my sister's kids ended up going into care.
That's just my family. You're talking about thousands of Indigenous people who are repeating cycles of trauma and abuse whose kids are constantly going into care because that trauma is inherited. It's just cycles of addiction, cycles of trauma that are continually replicating and continually being used as excuses to remove these kids, raise them without their culture, raise them with internalized racism towards their culture, and assimilate them into mainstream culture.
Definitely not the kind of thing that $50,000 can fix.
Oh, no. Not at all. And that's just off-reserve we're talking about, in urban centers. We're not even talking about on-reserve, where child welfare is chronically underfunded by a quarter of what non-Indigenous folks get. It's kind of a cruel joke. It's kind of like what's happening with Trump. All of, you know, "He's a bad man," but nobody does anything. [Laughs] It's the same thing in Canada. Everybody knows that Indigenous people are almost like pariahs up here, but nobody wants to address it, especially the government. We've been putting in our own time to volunteer and raise funds, but we can only go so far without funding. Without it, we just can't do the work that needs to be done at the national level.
Does the Network get any funding from the Canadian government?
We did actually get some funding this past year to have our Bi-Giwen Indigenous Adoptee Gathering. We brought together 75 survivors for four days of ceremony and workshops. We did sweat lodges, drum making, rattle making, art therapy workshops, body care workshops, workshops that deal with faith and loss and healing, workshops that deal with conflict resolution—tools that will help us as we're healing, right? Because a lot of us are just starting to heal.

We have survivors in their 40s or 50s who are just learning about the Sixties Scoop or who are just starting to come to ceremony. We make sure that the survivors who come to us can learn about their culture in a safe, supportive environment. There are people out there who use culture to prey on survivors who don't know any better. We call those people "popcorn elders" or false prophets, you know? They use our culture against us. They charge money. You should never have to pay for culture.
Is there anything you'd like to say to a survivor of Canada's colonial welfare system who might be hesitant or nervous about going to a future gathering?
It's really hard to tell people to come. They have to want it. They have to know that we're here for you. We know what you're going through. Our experiences are the same. And we come away as family, and we keep in contact and support each other through Facebook and other social media. We want other survivors who are out there in the world to know that we're here. You can come home. We got you. It might seem like you're alone out there, but you're not.