When service technician Jerry Bance visited a home for a routine sink repair in 2012, he probably didn't plan on peeing in the homeowner's mug. Maybe he was late leaving his own house, and rushed to work with a full bladder. Maybe he finished the repair and just couldn't hold it in anymore. As in most things in life, we may never know the truth.
Regardless, Jerry Bance definitely peed in a mug, and that mug certainly didn't belong to him. Unfortunately for Jerry, CBC's Marketplace caught him on hidden camera during an investigative piece in 2012. And, adding even further to the misfortune, the Canadian Conservative party had selected him as the Parliamentary candidate for the Scarborough–Rouge Park region. Jerry is no longer a Parliamentary candidate for the Canadian Conservative party.
Evidently, the Conservative party did not know Bance peed in someone's mug after fixing their sink when they selected him as their representative. (In fairness, Bance did fix the sink.) Remember, this happened back in 2012, and the episode he was filmed for did air on television, but CBC reports he was only identified as "Jerry" back then.
G/O Media may get a commission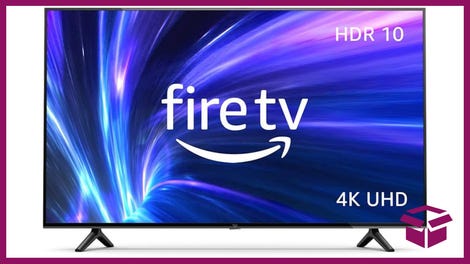 42% Off
Amazon Fire TV 50" 4K Smart TV
CBC News broke the news Sunday night thanks to a tip from a careful viewer, and by Monday morning, a Conservative Party spokesman had informed CBC that Bance was no longer a candidate.
Here is a very good quote from opposing political party NDP leader Tom Mulcair on the matter:

"I guess that this was one mugshot that Canadians weren't expecting from the Conservatives," said NDP Leader Tom Mulcair.
Here is another very good quote from Mulcair:

"This must be someone who's adept at Stephen Harper's trickle-down theory of economics," Mulcair said smirking. "Any other questions?"
CBS News reports Bance says he is "deeply sorry." I don't think he should be.
Michael Rosen is a reporter for Fusion based out of Oakland.