Ever since Canada elected Prime Minister Justin Trudeau, some progressive Americans have been busy swooning over their neighbors to the north. To them, Trudeau represents what they wish they could see in more of America's leaders: he respects religious minorities, attends Pride events, has a slick sense of humor, and is even successfully rolling out his progressive agenda.
But don't think for a second that Canada is without flaws. Just ask black Canadian Louizandre Dauphin, who recently posted a photo on Instagram showing that the nation has its own issues with systemic racism.
"Before any more Canadians get too comfortable on their high horses, let me share with you what happened to me about an hour ago," he said in the post. Dauphin then launched into a story about how, after he was stressed out by hearing about "the latest string of black males killed by the police," he took some books to read in his car by the water.
As he drove home afterwards, he was pulled over by the Royal Canadian Mounted Police, he wrote. The officer told him that someone called the police with a report "of a suspicious black man in a white car" who was parked near the water for a few hours.
G/O Media may get a commission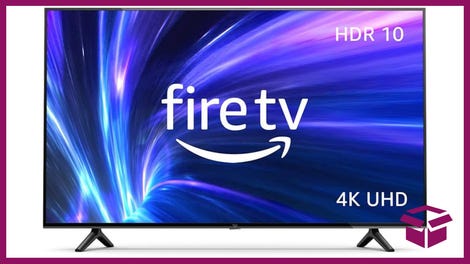 42% Off
Amazon Fire TV 50" 4K Smart TV
"My response, 'Really? I was just reading a book,'" he wrote. He ended the post with the hashtag #DangerousNegro.
The incident highlights an ongoing problem Canada has had with those rallying under the banner of Black Lives Matter. A few weeks ago, Black Lives Matter activists received death threats when they convened at a Pride event in Toronto. This week, the issue resurfaced when a singer inserted "All Lives Matter" into the Canadian National Anthem before the MLB All-Star Game. The phrase is seen as glossing over the unique plight that black people face in North America.
"What we're seeing is a real shift in the narrative of how people understand racism in Canada and, more specifically anti-black racism in Canada," Black Lives Matter Toronto co-founder Janaya Khan told the Guardian.
Dauphin is a former high school teacher and a director of the department of parks, recreation and tourism in the small New Brunswick town of Bathurst, according to the Washington Post. While he sat in his car he was reading Mere Christianity—a seminal work by C.S. Lewis—and a book by theologian Timothy Keller.
"There's still intolerance and suspicion," he told the paper. "I've been pulled over for driving in my own neighborhood.  I've gotten asked where I'm from and when I tell them I'm from my hometown of Hamilton, Ontario, the question is where are you really from? As if I can't actually be from here."
The police stop didn't result in an arrest or any fines. A spokesperson for the police department later said that the "report was unfounded."
In a lengthy Facebook post following up on his original Instagram photo, Dauphin wrote more about the incident.
"I do not know the true motivations behind the individual who called the police to report my presence at the Stonehaven Wharf, but I struggle to understand why my actions of driving my vehicle to a public space, reading a book, and never once exiting my vehicle was cause for a level of suspicion which prompted this individual to call the police," he wrote. "What reason did a person have to fear me?"
Daniel Rivero is a producer/reporter for Fusion who focuses on police and justice issues. He also skateboards, does a bunch of arts related things on his off time, and likes Cuban coffee.