Jamie Keeton has a can-do attitude about his mysterious chronic condition that, according to one doctor interviewed by ABC News, makes his head "act like the suction cups on an octopus' tentacles." Keeton, 47, has taken to sticking cans and bottles to his head, dubbing himself "Canhead."
How did this happen?Keeton told ABC News that one day, approximately 20 years ago,  he suddenly and miraculously was imbued with the ability to stick items you might consider garbage to his cranium.
"I had shaved my head for the first time," he told the network. "It was a hot day, and I was trying to cool my head down by holding a soda pop to it. But then the team hit a home run and I let go of my soda to try and grab the ball, but I missed. Then I was like, 'Where's my drink?' It turned out, it was stuck to the back of my head horizontally and the drink was pouring out. Everyone was laughing."
Amazing.
The provenance of his suction cup head is apparently "a mystery" in the eyes of the medical community, but Canhead has taken his personal circus act on the road, meeting celebs high and low along the way.
G/O Media may get a commission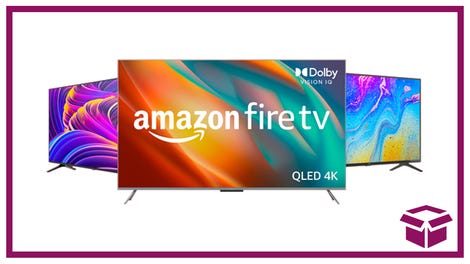 Ooh. stunning.
New Amazon Fire TVs
Here he is with Academy Award winner George Clooney:
On Ellen:
With Kevin James:
And Adam Sandler:
American Idol season 5 winner and Soul Patrol baron Taylor Hicks:
He also met JoJo (singer):
"In the last five years, I've made it into a business," Keeton told ABC News. "People pay me to wear their products, to advertise their names or business on my shirt or cans. I also MC events, concerts, sporting events, parties, anything."
Incredible.
So, can Canhead stick anything to his head and face? That is a very good question. According to Keeton, you may stick the following to him:

cans
cellphones
bottles
keys
"just about anything"
"other inanimate objects"
But if you're thinking about sticking your shirt to his head—throw your shirt in the trash and look for any of the items listed above, because clothes and other "porous" materials straight up don't stick to his noggin.
Even with his burgeoning célébrité, he's trying to not let it all….go to his head.
"One of my friends said if my head gets too big, he'll knock me out," Keeton told ABC News.
Aleksander Chan is Fusion's News Director.