In the final hours leading up to tonight's Super Bowl coin toss, football fans around the world will be obsessively clicking their way around the Internet reading up on the big game between the Seattle Seahawks and New England Patriots.
Once the game starts, the Internet will become even more crowded with real-time analysis of every play, breathless commentary of every multi-million dollar commercial spot, and keen insights into every over-baked halftime act. It's dizzying just to think about. So we've decided to slow it all down a little and focus on the quieter moments of the game, because, in the words of one Twitter pundit, "truth and beauty converge on the spaces in between."
Here's a tribute to the quieter moments, in GIFs.
G/O Media may get a commission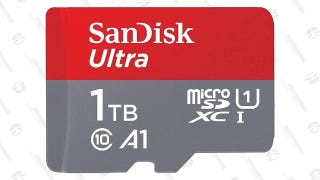 Save $75
SanDisk Ultra 1TB MicroSDXC Card
Tom Brady goes for a leisurely stroll (#LeashLawSucks)
Seagulls cheer for their cousins (#SeabirdSolidarity)
Hey man, give me…ok, good play.
That spiral tho.
This is why we play the game! … Oh great, that will become a GIF.
Heeeyyyy!
The running game will be a big part of the Patriots' offensive game plan, according to the Internet.
Steve Grogan
I'll never be able to unsee that.
Daddy, what's condensation?
Speed yawn.
Meanwhile, in Natick, Massachusetts, Patriots fan Jon Lynch prepares for the game with a lonely end-zone dance in his basement.
Fidel Martinez is an editor at Fusion.net. He's also a Texas native and a lifelong El Tri fan.