Gustavo Cerati, lead singer of legendary Argentine band Soda Stereo and a renowned solo artist, died on Thursday in Buenos Aires. He had spent the last four years of his life in a coma following a stroke in 2010, when he was on tour through Latin America.​
More: Remembering Cerati, from those who knew him —including Residente from Calle 13 and Alex from Maná.
The cause of death was respiratory failure, doctors said in a statement. ​The​ rock idol, who was also a virtuous guitarist, was 55.
Influenced by bands like The Cure and The Police, Cerati (guitar, vocals) teamed up with Héctor "Zeta" Bosio (bass) and Charly Alberti (drums) as university students ​in the early 80s to​ giv​e birth to Soda Stereo, one of the most influential -– if not the most influential — rock groups that headed the rise of what became known as ​Rock en Español in the 80s and 90s that included acts such as Cafe Tacvba from Mexico and Aterciopelados from Colombia.
​"Soda Stereo was the​ result of the music machinery of the time", said Nicolás Vallejo, music editor for Vice magazine in Colombia. "The empresarios back then came up with this concept of Rock en Español, a label that appealed to three generations of South Americans. There are great rock bands in the continent today, but the corporations are betting on different rhythms and genres", continues Vallejo. "Today the word 'rock' sounds almost anachronistic."
G/O Media may get a commission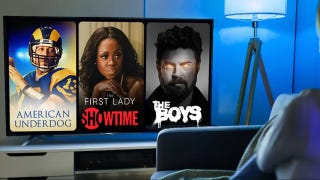 UNDER $1
99¢ Prime Video Channels
In the mid to late 1980s, Soda Stereo became a phenomenon in Latin America, just as MTV was arriving in the region. From Argentina they blew up in Chile, Peru, Venezuela, and elsewhere. "[Soda Stereo] was important because they were one of the first completely pan regional bands," said José Tillán, who was an executive at MTV Networks in the 90s and then headed MTV Tr3s until 2013. "They were idols for folks like Juanes and Shakira." (Cerati co-wrote and produced a few songs with Shakira for her "Fijación Oral Vol.1" album in 2005.)
"Latin American rock has always had stars and always had stadium-sized personalities, but Cerati was was one of its first truly great, truly artful, songwriters," said Josh Kun, an associate professor at the USC Annenberg School for Communication and Journalism.
"His work with Soda Stereo in the 80s was proof to everyone that new wave and alternative rock from Latin America were not just copies of US and UK originals. His songs, and the way he sang them — so felt, so syrupy, so anguished, so modern — felt unmistakably original in the way all great new art announces itself out of nowhere," he said.
After Soda Stereo disbanded with a hugely successful farewell tour in 1997, he pushed the boundaries of rock, dabbling in electronic and symphonic music that cemented his solo career and won him new generations of fans (he released 5 albums as a solo artist, including his last one, 2010's "Fuerza Natural.")
"Bocanada (from 1999) especially, but also his work with Daniel Melero (1992's "Colores Santos"), were bold experiments in production— full of loops, samples, breakbeats, and lush electro landscapes that sounded like little else out there," said Kun, who interviewed Cerati at least twice during his solo career. "Personally, I always heard Sinatra in Cerati's singing. He was Rock en Español's avant-garde crooner."
And it's not only thirty- or forty-somethings who are mourning Cerati's passing. Rock En Español might be dead as a concept, but as Kun noted, for young people, "The past is just a click away from the present," a YouTube video away to discovery.
"My one consolation in learning of his death was that I learned it from one of my students — a 19-year-old who wrote her first essay for my class on "En La Ciudad De La Furia," he said. "She was as sad about losing him as I was."
To honor the great musical legacy of Cerati, here's a quick playlist - by no means exhaustive - to get you started.
"Nada Personal," from the album of the same name was one of Soda Stereo's first hits. Check out the heavy use of the synthesizer.
Persiana Americana, from the 1986 album Signos, is one of Soda's most memorable tunes. Awesome glam rock (and hair!!!!!) during this breakthrough show at the Viña del Mar festival in Chile.
Here's "De Musica Ligera," from "Cancion Animal," a 1990 album that many experts argue is the band's best. This song was the last played by Soda Stereo in their epic final concert in 1997 in Buenos Aires' River Plate stadium (although the band would get together one last time 10 years later for a reunion tour).
Their 1996 MTV Unplugged album included the amazing duet with Aterciopelados' Andrea Echeverri for "En La Ciudad De La Furia," originally from Soda Stereo's 1988 album "Doble Vida."
After Soda Stereo broke up in 1997, Cerati went solo and released the classic "Bocanada" in 1999.
Cerati's 2006 album, "Ahi Vamos" includes the song "Adiós" - "to be able to say goodbye, is to grow" he sang.
More:Remembering Cerati, from artists and industry insiders who knew him
Manuel Rueda is a correspondent for Fusion, covering Mexico and South America. He travels from donkey festivals, to salsa clubs to steamy places with cartel activity.
Nuria Net is a founding editor at Fusion and now Social Storytelling Editor working on our Snapchat Discover channel. Co-founder, former editor-in-chief of Remezcla.com. Net is her real last name; Lechuga is her DJ name.