Welcome to the most momentous event in any tech journalist's calendar, the biggest and best feeding frenzy of the year that has just begun in Las Vegas. Think insane amounts of food, unlimited access to sugar, most of it served in tiny bite size portions - and often created by some of the best chefs in the world. This is CES.
Technically, CES 2014 stands for the Consumer Electronic Show 2014, a convention center where gadgets and gizmos get unveiled to buyers and the media. Much of this week's tech news will revolve around un-affordable 4K TV's, gizmos we can never own and wearables that make us look stupid.
But the real hero of CES is ACTUALLY the food, the delicacies laid out for the hungry journo's to keep them coming back for more, and the Fusion team is here to dutifully report and taste test on what culinary confections were offered.
Note: No taste buds were harmed in this process, though many new years resolutions may have been broken.
G/O Media may get a commission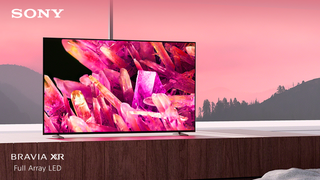 $400 off
Sony 55 Inch 4K Ultra HD TV X90K Series
We started with the delicacies available at CES Unveiled, the first CES event. Here a number of companies showcased products that they thought we might miss on the show floor — with hundreds of exhibitors, it could be easy to overlook items such as Fighting Robots and $11,000 "smart" ovens that send you a text when your food is ready to eat.
So, what were they offering?
Chocolate and caramelized apricot shot glass
Served at CES Unveiled, Mandalay Bay Convention Center
These had a sweet tangy taste to them, a perfect balance of tart apricot with a smooth choclate-y aftertaste and a slight bitter sweetness that left the palate refreshed. A perfect aperitif to the free flowing bar, and the adornments on the shot glasses made them reflect the light in a pleasing manner. Artistry with calories = perfection.
Coffee and orange profiteroles
Served at CES Unveiled, Mandalay Bay Convention Center
These moist concoctions were sugary, the powdery coating making one need a drink, thus necessitating a walk through the various booths. Sweetness level was fine, but lingering sensations of airiness and fluff made these fairly unsatisfying.
CES Unveiled Chocolate Coins
Served at CES Unveiled, Mandalay Bay Convention Center
Branding and chocolate — how can you complain? These coins had just the right level of dairy and sugar, and melted in your mouth. It's close enough to Christmas to make you get nostalgic over those stockings.
Coconut and pineapple shot glass
Served at CES Unveiled, Mandalay Bay Convention Center
Full marks on the design, but as a chocolate lover, these were lacking that basic ingredient that makes desserts so smooth and delicious. Good for a pick me up and palate cleanser before heading onto the next sugary round.
Entremet cake
Served at CES Unveiled, Mandalay Bay Convention Center
This was moist and delicious, the layers of chocolate and filling melting in the mouth and the delicious layers creamily coating the tongue with a thick furry layer of pure milk fat.
I did need to Google the name of this desert, and when I discovered it was a "multi-layered mousse-based cake with various complementary flavors and varying textural contrasts," I was pleased on two levels. First, new scrabble word, yay. And secondly, who doesn't love a very accurate definition. Full marks… but we might need some water now.
Entremet cake, take two
Served at Startup Debut at the Bali Hai Golf Country Club, Las Vegas
We moved to a new venue! The next foodie offerings didn't come with a name card, but the multiple chocolatey layers of decadence suggest that this cake was an "entremet," my new favorite word. The topping was rich and moist and the cake separated well. One complaint would be that that the filling wasn't quite sticky enough to hold this confection together, but even in separate pieces it was all equally delicious.
Cream éclairs and some type of cake tart
Served at Startup Debut at the Bali Hai Golf Country Club, Las Vegas
The éclairs had a sweet creamy filling that was fluffy and light, whipped to perfection. There was a tad too much vanilla flavoring included here, but the chocolate drizzle and fluffy shell kept this together well, and when eaten with the Starbucks coffee and cake tart, created a trio of deliciousness. The tart itself was fairly unmentionable, which is why we *deliberately* blurred the image.
Strawberry-esque shortcake
Served at Startup Debut at the Bali Hai Golf Country Club
Soggy and lacking texture, the selling point was the limp but refreshing strawberry. Finally, actual fruit!
Tarts Chocolate and Raspberry
Served at Digital Experience, The Mirage
Gorgeous presentation and the lemon tart was firm and refreshing. The cream and nut combo really added texture and flavor, and a mouthful was a pleasure.
Parfaits Mocha and Tiramisu
Served at Digital Experience, The Mirage
Slightly biased against these desserts as tiramisu has ever been high on my list. Still, the arrangement of layers was very attractive and the flavorful chocolate decoration was delightfully bitter, offsetting the sugary creaminess of the dessert. Light and fluffy, this melted in the mouth, though the aftertaste was a little sickly.
Cookies, Oatmeal raisin, Maple pecan and white chocolate cranberry
Served at Digital Experience, The Mirage
You can't really go wrong with cookies, and these fulfilled every cookie lovers requirements: soft and sweet. The right amount of chewy. Flavorful. The white chocolate was subtle and the pecan was tasty and crunchy — a nice combo of flavors.
Cheesecakes Snickers and lemon
Served at Digital Experience, The Mirage
This was a surprise, a mixture of elements I wouldn't naturally have put together, but that somehow lead to one of the sweetest tastes of the week. Tangy and fresh, the smooth chocolaty base provided a crumbly mouthful and the sugar was counterbalanced by a rich peanut like tang. Yum.
We bravely try it out
*There was the option of "real food" at the events, but who wants to be boring when there's petit fours on offer?
We will keep you posted in the latest in culinary offerings as CES 2014 progresses.
Ingrid Rojas is a Colombian multimedia producer based in Miami. She spends her days either shooting, producing or editing all kinds of video content.