It's happening again! Tens of thousands of people are descending on Las Vegas for the Consumer Electronics Show, a mega-meeting of gadgetmakers from across the world.
3,600 major and minor hardware players pony up for booths. Big companies have splashy events. 150,000 people attend. It's not just the traditional electronics people, either; now all the carmakers use CES as a place to show off their latest efforts, like GM announcing an autonomous vehicle partnership with Lyft.
And so, of course, the journalists have to follow suit. They do wall-to-wall coverage. It's like a rite of passage to go padding around, hoping to find that one story that no one else has, or at least the one that Facebook's algorithms will love. Every year, tens of thousands of blog posts detail the showroom floor in Vegas. Every conceivable story is wrung from the show, like sweat from a marathoner's t-shirt.
So it's strange that year after year, so few products and announcements rise above the din. Take a look back at The Verge's Best of CES 2014 or Gizmodo's favorite stuff from CES 2015. It's not that gadget-lovers wouldn't care about these things, but… they are not earth-shattering news, even for people who love new stuff. The whole thing can seem like so much noise, especially considering that the king of hardware—Apple—skips the event.
We want CES to be like a yearly World's Fair, a place where we can see the future right before it's assembled. But that's not really what's happening at CES. Most of what's happening that's important isn't happening out in public.
G/O Media may get a commission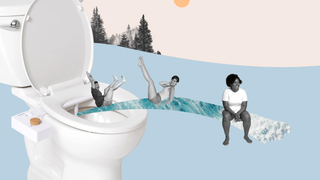 17% off
Tushy 3.0 Warm Water Spa Bidet Attachment
CES isn't about the news that comes out of it, but the people and information that circulate within it. Whatever you see outside Vegas is merely the exhaust from the economic engine that is the electronics industry.
What CES is really about is the networking of people not gadgets. CES means that salespeople have all their targets in the same city for once. CES means that Chinese manufacturers can show off their prowess to the companies that design—but don't make—stuff. CES means distributors cut a few more deals. CES means surreptitious meetings with recruiters. CES means that all kinds of people who contribute to making gadgets can learn a lot in a few days and ante up as members of the tech world.
That's why all the tech-adjacent players go, like the car companies and refrigerator makers. They want you to know that they, too, are tech.
The authors of an Oxford University Press book on Trade Shows in the Globalizing Knowledge Economy put it like this for the general case:

Tradeshows [are] 'inter-organizational rituals' that foster a sense of community among actors, who often view attendance as a social necessity that goes beyond utilitarian motivations… Trade shows represent important meeting places for occupational/professional communities that share similar or complementary knowledge bases and working practices.
So, CES is about what tradeshows are always about. But it says something about the role the technology industry plays in the American imagination that we expect this show to wow and dazzle us.
And who knows, maybe it will this year?
But if it doesn't, don't be surprised. There's an SVP of Sales who just closed a deal over a Vegas steak and that's what it's really about.