Reporters from across the country have descended on to Charleston, South Carolina, since news broke that a young white male entered a black church and killed nine congregants. But in the place known as "The Holy City," locals are staying focused on their own community.
Take a look below and hear what residents had to say as they visited the Charleston AME Church where the shooting took place.
Phyllis Holmes
"This morning when I got up I felt like someone had me kicked me in the stomach."
"I just felt sad, angry and disgusted."
"I didn't want to go to work today because it just felt like there were important things to do. I did go, but I was just there in body."
G/O Media may get a commission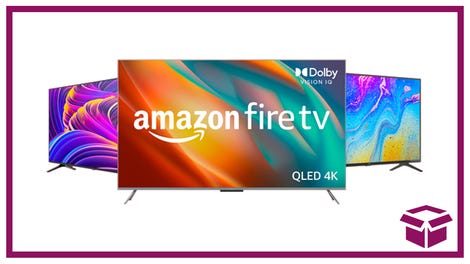 Ooh. stunning.
New Amazon Fire TVs
Aaron and Nikki Copeland
"It's just a tragedy to go to church and not come home. That's not suppose to happen in that order."
"It's like history repeating itself all over again, in a different form with different age groups."
"We have to be better people in this world. We can go to WWI, WWII with blacks and whites fighting side by side, but we can't live side by side? Something has to change."
Shakem Akhet
Black Lives Matter Charleston
"It's something that's very unfortunate, and we believe that it has a direct correlation with the activism of the pastor. He was very active in the issues surrounding Walter Scott, and he was definitely an advocate of body camera policies, and we believe that a white supremacist actually did target him because of his activism and his belief in the disparities in the city."
"This is the beginning of the weekend so eventually this is going to get larger. There's definitely growing outrage."
"Anytime you have a situation where it seems like people are under attack, there's the potential for riots. That's in all honesty. We hope that it doesn't come to that point but what can you expect when people are targeted? Eventually you're going to see some civil unrest. That's just the way it is."
Tiara Washington
"That stuff you hear in St. Louis and New York and other places like that, where the police are killing innocent black people…but for someone to do it here at a church after they prayed for you? There's no words for it. I love that people from all different backgrounds came out here and supported. It's actually shocking to see people of other races coming out to support. People from Charleston have been all over my timeline."
"Charleston can't afford to have riots, this church has been here since 1880."
"My daughter is 10, what am I going to tell her? She just went to church camp. I don't even want to go to church."
Pastor Edward Johnson
New Vision Cathedral
"We have to go back and look at where the root causes of where [racism] came from and begin to have that discussions. Once we're willing to be honest with each other about where it came from then we can move forward."
Anonymous
"I'm hoping there's no repeat here of an African-American person going into a white church. I'm hoping there's no repeat here in Charleston because we really don't have this type of stuff happening here."
Anonymous
"We hate you, you hate us, we hate you. Period. Point blank. There's a race war coming. Praying to white Jesus ain't gonna work."
Carmella Luke
"I think the people of South Carolina are really going to pull together and get past this as a community. That's what the vibe I've been getting here and on social media. Nobody is going to forget what happen but we'll get stronger as a community.
Jorge Rivas is the national affairs correspondent at Fusion. He follows the national conversation through the lens of racial, sexual, and political identity.