In 2010, a group of scientists set up 225 camera traps across Serengeti National Park in Tanzania, and gathered more than a million photos over the next few years.
To classify the images, the researchers—led by the University of Minnesota's Alexandra Swanson—teamed up with The Zooniverse, a citizen science platform to invite the public to help classify images on a Snapshot Serengeti website. In results published Tuesday in the journal Scientific Data, the scientists said thousands of citizen scientists helped identify the images: "Over 28,000 registered users contributed 10.8 million classifications."
Some of the images are spectacular, and straightforward:
Caption: #zebra. Image ASG000alz6, captured 11/30/2011
G/O Media may get a commission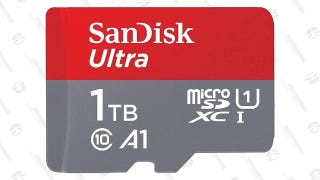 Save $75
SanDisk Ultra 1TB MicroSDXC Card
Caption: #lion. Image ASG0006eb5, captured 7/12/2011.
Caption: #lion. Image ASG0007txr, captured 7/2/2011
Caption: #selfie; very nice #baboon #close. Image ASG00079gd, captured 7/13/2011
Caption: Magnificent horns! :) #impala. Image ASG001eocv, captured 2/23/2014
Caption: #kori #bustard #closeup!; Amazing #bustard shot! :D Is it sleeping? Image ASG0006ic8, captured 5/27/2011
But others are more ambiguous, and less spectacular:
Caption: Probably vultures, far in the sky… Image ASG001aj72, captured: 5/29/2014

Caption: #butterfly on picture 2. Image ASG001eyv5, captured: 4/19/2014
To make sure that the animals are correctly classified, the scientists employed an algorithm to "aggregate these individual classifications into a final 'consensus' dataset, yielding a final classification for each image and a measure of agreement among individual answers."
Overall, the scientists classified 1.2 million images over three years. The collection shows an extremely detailed, comprehensive view of animal behaviors in the Serengeti. For now, the researchers don't need any more help identifying animals.
But you can still browse through the images on the Snapshot Serengeti website, and help classify animals for the Chicago Wildlife Watch project. But that seems like it might be mostly squirrels.
Danielle Wiener-Bronner is a news reporter.