The Girl on the Train, Paula Hawkin's literary sensation that broke records in the UK this summer, is on the fast track to book club and high school English assignment immortality with a high profile film adaptation starring Emily Blunt. But Hawkin's carefully assembled kingdom could be undone by her own weapon: words.
The Girl on a Train, the Wall Street Journal reports, a 2013 novel by A.J. Waines that shares almost all of the same words as The Girl on the Train except one ("the"), has enjoyed sales in "tens of thousands of copies" from people who thought they were buying Hawkin's thriller. Whoops!
"I have been hearing so many great things about The Girl on the Train, so I read it. Or thought I did," Bob Sabiston wrote in his Amazon.com review of The Girl on a Train. "THIS is not that book!"
Bob, my man, you are so right.
This is the plot description of The Girl on THE Train on Amazon:

Rachel takes the same commuter train every morning. Every day she rattles down the track, flashes past a stretch of cozy suburban homes, and stops at the signal that allows her to daily watch the same couple breakfasting on their deck. She's even started to feel like she knows them. "Jess and Jason," she calls them. Their life—as she sees it—is perfect. Not unlike the life she recently lost.

And then she sees something shocking. It's only a minute until the train moves on, but it's enough. Now everything's changed. Unable to keep it to herself, Rachel offers what she knows to the police, and becomes inextricably entwined in what happens next, as well as in the lives of everyone involved. Has she done more harm than good?
G/O Media may get a commission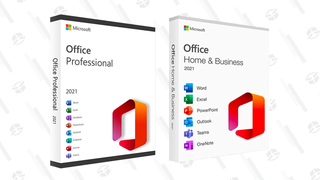 89% off
Microsoft Office Professional 2021 Lifetime License
And here's the description for The Girl on A Train (remember, a different book):

Headstrong Journalist, Anna Rothman knows what suicide looks like - her own husband killed himself five years earlier. When Elly Swift, an agitated passenger beside her on a train, leaves a locket in Anna's bag before jumping onto the tracks, Anna starts asking awkward questions. But everything points to suicide and the police close the case.

Anna, however, believes Elly's fears for Toby, her young nephew, missing since being snatched from St. Stephen's church six months ago, fail to explain the true reason behind Elly's distress. Through a series of hidden messages Elly left behind, Anna embarks on a dangerous crusade to track down Toby and find Elly's killer.

But nothing is as it seems and Anna opens a can of worms that throws into question even her own husband's suicide - before the threads of the mystery converge in an astonishing conclusion.
Different books, different plots. You can imagine the confusion. From the Journal:

Jade Wilson didn't catch her error until she got lost during a book club discussion. Others were talking about a plot involving an alcoholic who couldn't stop loving the ex-husband who cheated on her. She had read about a journalist obsessed with finding out what happened to a woman who sat next to her.

"I'm like, 'No dude, this is not the book I'm reading. That's not right,'" Ms. Wilson said. "They all made fun of me for picking the wrong book." But she actually liked Ms. Waines's book better. When it was her turn to select the club's next read, she chose "Girl on a Train."
As the Journal points out, this case of mistaken identity has certainly happened before: Emily Schultz's e-book Joyland enjoyed a wave of fresh downloads when Stephen King published a novel by the same name in 2013. And of course, enterprising e-book authors will purposely prey on the gullible tendencies of modern book readers: there are plenty of The Girl with the Dove Tattoos circulating on Amazon. (The book you probably want is The Girl with the Dragon Tattoo.)
It would appear all is well for these confused readers—the Journal writes that "many" of the people who bought Waines' book instead of Hawkin's "liked it anyway."
Aleksander Chan is Fusion's News Director.