Kids are always asking tough questions, like: "What happens when you die?" or "Where do babies come from?" or "Why on earth would you want someone who beats their wife to have access to a gun?"
That last question, sensible as it seems, apparently crossed a line for a Cub Scout den in Colorado. After Ames Mayfield, my new hero, challenged Republican State Senator Vikki Marble on her gun control position and history of racist comments, he was promptly ejected from the den.

Allow me to summarize as I highly recommend watching the above video of Ames questioning Senator Marble for a solid two minutes before she answers. Last week, Marble hosted a discussion with Ames' den. He was prepared with extremely well researched questions (which were printed out, paper-clipped, and neatly placed in a folder) and came out swinging.

"I was shocked that you signed a bill allowing domestic abusers to continue to own a gun in spite of studies that show they are more likely to use those weapons against their abusers," Ames calmly stated with confidence before teeing up the kicker. "Why on earth would you want someone who beats their wife to have access to a gun?"
Ames proceeded to back up his question with public opinion polls, evidence from previous mass shootings, and yet another astoundingly astute observation. "There's something wrong in this country where Republicans believe it's a right to own a gun, but a privilege to have health care," he said. "None of that makes sense to me."
G/O Media may get a commission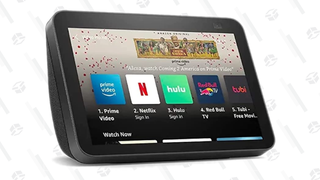 Marble's response, characteristic in its condescension, illustrates the extent to which staunch defenders of the Second Amendment have, truly, lost their marbles. "When you talk about Las Vegas, which was a horrible tragedy, that was a gun free zone. Did you know that? Did you know the Aurora shooter was a gun free zone? It didn't stop it did it." Marble answered.
Lori Mayfield, Ames' mother, recorded the entire exchange and later put the videos on YouTube. In an email to KMGH, an ABC affiliate in Denver, Lori said Ames was kicked out of his Cub Scout den, three months away from becoming a Boy Scout, because of his question on gun control.
"My son was praised for (the question) during and after the meeting," Lori said. "He is heartbroken his den leader kicked him out. What does that teach scouts (about asking challenging questions)?"
In another round of questioning, Ames pressed Marble on a wildly racist comment she made in 2013 alleging black people had bad health because of all the "barbecue" they apparently eat. Marble denied she made the comment, claiming it was "made up by the media." But, as KMGH Denver noted, she absolutely said it. You can watch that interrogation below: