CHICAGO — Robert Morris University may be the first college in the nation to offer athletic scholarships to video gamers, but the Chicago college is struggling to overcome the gender divide in the gaming world.
Last week, dozens of college-aged League of Legends players from different backgrounds attended the university's eSports Exhibition Day as either recruits or hopefuls looking to impress the coaches and win an eSports scholarship.
However, few of them were young women.
Kurt Melcher, the coordinator of the program, said recruiting female players is proving to be a challenge. In an email to Fusion, he said response to the gaming scholarship offer drew a response of approximately 100 males for every female who expressed interest.
The university's varsity team has two high-performing females and hopes to recruit one or two more to round out the 30-member roster.
"The fact does remain that there isn't the same amount of interest from female players compared to males," Melcher wrote.
G/O Media may get a commission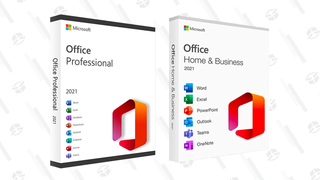 89% off
Microsoft Office Professional 2021 Lifetime License
That is not to say that they aren't as capable. Melcher knows women are just as driven and competitive as their male peers.
"It will be interesting to see how the female players at RMU perform with all things equaled - time, coaching, opportunity, presence. I don't think they will disappoint," he said.
One of the players, a young woman named Sandra, was recruited from California to play for the varsity team.
With hot pink and purple-tipped hair, she stood out in the crowd of male gamers attending eSports Exhibition Day.
"The League of Legends community, like the gaming community in general, is 49 percent female, but the fact that it's all men in the competitive scene puts more pressure on you as a girl," she said. "Even people at other levels are looking at you and thinking, 'Well, we've never seen your kind at this level before.'"
Sandra had a chance to show her gaming skills on Saturday after touring the campus. Recruits and hopefuls participated in games that pitted teams of five against each other, with virtually every computer occupied at the Ignite Gaming Lounge in Avondale, Chicago.
The eSports scholarship will cover up to half of tuition and room and board costs for League of Legends players. Robert Morris plans to join the Collegiate Star League, which boasts gamers from more than 100 universities.
Kiara, a scholarship hopeful from the Chicago area, said the fact that Robert Morris University is offering eSports scholarships could help change the perception of female gamers. She said she frequently felt the gaming world depicts girls as sexual objects and not serious gaming contenders.
"The whole thing is sex-appeal dominated, especially with the streamers. You're often treated like you can't do anything, that you have to be protected, or that you can only play female characters," she said.
Kiara hopes to work as a video game designer for Bethesda or Square Enix, the company that makes her favorite console series, Final Fantasy.
While both young women agree it's better to remain genderless in the online gaming world when possible to avoid harassment, they want to work to make it more welcoming to women in the future.
Sandra hopes to study business and marketing at Robert Morris University and pave the way for other female players.
"I really want to go into the gaming market and try to gear marketing more towards women," she said. "[I want to try] to encourage them to feel more comfortable, to do what they love doing no matter what."
@fusion