Just days after protests erupted in Chicago over a video showing a police officer gunning down a black teen, the city's police department is expanding a pilot program that puts body cameras on officers.
Mayor Rahm Emanuel announced Sunday afternoon that officers in six new precincts would receive cameras by the middle of 2016. The program currently operates in one precinct with about 30 cameras.
"Expanding this successful program into one-third of the city will help enhance transparency and credibility as well as strengthen the fabric of trust that is vital between police and the community," Emanuel said in a statement.
The program will receive a $1.1 million federal grant, along with $1.1 million in city funds. Officers will get automatic equipment upgrades every 30 months, the city said.
Chicago is still reeling from the decision last week to release a dashcam video of officer Jason Van Dyke shooting 17-year-old Laquan McDonald in October 2014. Some protesters last week were calling for more body cameras for officers, which they said would increase police accountability.
G/O Media may get a commission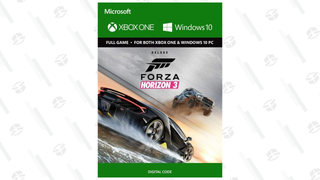 Forza Horizon 3 (Digital Code)
Craig Futterman, a law professor and director of the University of Chicago's police accountability project, said body cameras are a good tool but far from a solution to the problem. "Body cameras don't address the underlying reasons why this occurred," he told me. "People look for that magical elixir for police violence, and this isn't that."
It's not clear how public the videos recorded from the new body cameras will be. The video of McDonald's shooting was only made public after an independent journalist sued the city and months of legal wrangling.
Futterman said Chicago should institute a policy requiring the public release of any relevant video within 24 to 48 hours after any incident of police violence, which is the case in other cities like Cincinnati. "Adding more cameras without being sure that they're going to be used properly isn't going to help," he said.
Casey Tolan is a National News Reporter for Fusion based in New York City.