A Chicago-area man who committed the horrible crime of giving homeless people a warm place to sleep has been reportedly threatened with homelessness himself by city officials unless he closes his doors to those in need.
Greg Schiller, who lives in the Chicago-area suburb of Elgin, has spent the past two years offering his home and garage to the homeless during the cold winter months. This week, however, police arrived at his house with a warrant and threatened to condemn his property unless he closed his "unlawful basement sleeping area," Schiller told NBC 5.
"They shut me down and said I have 24 hours to return my basement to storage and take down - I have several cots with sleeping bags for everybody – or they'll condemn the house," Schiller explained to the station.
Speaking with the Chicago Tribune, Schiller said he'd opened his basement to members of the homeless community "five or six times this season"—frequently on nights when a local shelter was not operating. He was reportedly turned in to city authorities by an anonymous tipster who told police that between 10 to 15 people were sleeping in his basement.
Schiller had previously been cited by the city in 2016 for lodging people in his garage. He then moved his makeshift shelter into his basement, citing the city's "slumber party" rules. Elgin officials, however, pushed back, claiming that those regulations only applied to children's parties. They chose to categorize what Schiller was doing as running an illegal "rooming house." Besides, city officials claimed, Schiller's house was dangerously unregulated.
G/O Media may get a commission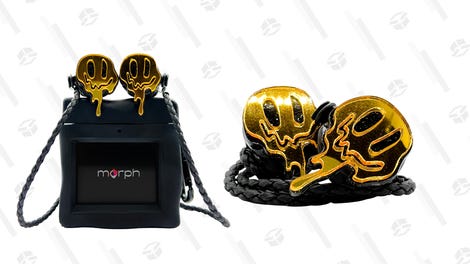 morph audio
Morph Earphones
"While we appreciate those who volunteer to provide additional resources in the community," an Elgin spokesperson told NBC 5. "Mr. Schiller's house does not comply with codes and regulations that guard against potential dangers such as carbon monoxide poisoning, inadequate light and ventilation, and insufficient exits in the event of a fire."
The spokesperson added that "the city will take additional enforcement action to compel the removal of the unlawful basement sleeping area" if nothing was done.
Schiller's girlfriend, Teresa Quarles, owns the property he'd been using as his makeshift shelter, and seemed to support the decision wholeheartedly.
"We are talking about people's lives," she told the Tribune.
Speaking with NBC 5, Schiller admitted that for the time being he would stop hosting "slumber parties" in his house, but added that he was working to find other accommodations for people.