One of Latin America's most developed and conservative countries is taking sudden strides to catch up on a few human-rights issues where it has fallen woefully behind the curve.

In a nod to modernity, Chile has approved same sex civil unions and presented a new initiative to reverse the country's total abortion ban. And that's just in the past week. Polls suggest most Chileans are cool with both ideas, but rights activists know the abortion issue will be tougher row to hoe.
"Abortion is the last battle," says Gillian Kane, a senior policy advisor at Ipas, an international organization working for women's reproductive rights. "Gay rights is viewed as a man's issue, and abortion is a woman's issue. One is viewed as love, the other as death."
Still, evidence shows the tide is shifting in the final battle for reproductive rights in Latin America. After several years of regional setbacks— most notably in Nicaragua and El Salvador — the momentum is clearly on the side of reformers and rights activists who are fighting to expand access to safe and legal abortions throughout the hemisphere.
G/O Media may get a commission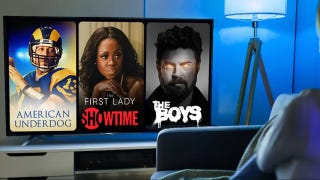 UNDER $1
99¢ Prime Video Channels
Chilean President Michelle Bachelet this week sent a 32-page directive to the lower house of congress asking lawmakers to repeal the total abortion ban and allow for the termination of pregnancy on three conditions: when the fetus is unviable, when the mother's life is at risk, or when the pregnancy is a result of rape.
"The facts have shown that total prohibition and the criminalization of all forms of abortion do not impede and will not prevent women from having abortions in conditions that put a their lives and health at risk," President Bachelet said in her letter to congress. "And that translates into a violation of [women's] rights."
To sell her reforms to the Chilean public, Bachelet is appealing to international law and national pride. In her letter, the president specifically mentions Nicaragua, El Salvador and Malta as the other countries with total abortion bans, and seems to hint that that's not the type of company Chile wants to keep. "A state that respects human rights can't feel pride or satisfaction by threatening women in this situation with incarceration," Bachelet said.
While Chile's congress isn't expected to start seriously debating the initiative until next March, rights activists are cautiously optimistic that a positive trend is occuring. Chile is now the seventh country in Latin America to reform its legislation on reproductive rights in the past 10 years, according to the Center for Reproducive Rights. Colombia, Argentina, Mexico, Bolivia, Uruguay and the Dominican Republic have taken similar strides. And even El Salvador —the hemisphere's most backwards nation when it comes to reproductive rights—is starting to show faint signs of change with its recent pardon of a woman sentenced to 30 years for having a miscarriage.
Pathetically, the United States is bucking the trend and heading in the opposite direction. Even though abortion services are still legal and constitutionally protected in the U.S., states have passed more than 200 laws impeding women's access to abortion since 2011, according to the Center for Reproductive Rights.
"The fight is far from over, but I think it's telling that reproductive rights are finally being recognized as human rights," says Mónica Arango, Latin America and Caribbean Director for the Center for Reproductive Rights.

What Chile and Dominican Republic have in common
Bachelet is now the second president in six weeks to come out in favor of reproductive rights in a country that has a total abortion ban. Dominican Republic President Danilo Medina signed a law in late December to decriminalize abortion under similar circumstances. That law is scheduled to enter into effect at the end of 2015, but is already being challenged in the Dominican Republic's Constitutional Court — a source of disquiet for rights activists.
"Knowing the history of that court, we are not confident that the its decision will be one that protects the rights of women," says Sergia Galvan, from the Dominican's Women and Health Collective. "But in the Dominican Republic we think there is no turning back, despite the alliance between ultra-right sectors and the church leadership."
Galvan says Chile's efforts to similarly decriminalize abortion could "have a positive impact on our country" and provide the extra regional nudge that the Dominican Republic needs to commit fully to reproductive rights.
"For the reproductive rights movement, it's a definite victory that two presidents from Latin American countries that have total abortion bans are finally speaking up on behalf of women's reproductive rights," Arango said. "But we're still cautious; let's see how the discussion goes."