New Jersey Gov. Chris Christie says Cuba shouldn't be removed from the U.S. list of state sponsors of terrorism until the island nation hands over a convicted cop killer who's been on the lam there for 30 years.
"I have no problem with Cuba being welcomed back into the family of civilized nations, but you have to be civilized," he said. "And harboring a cop killer is not civilized conduct."
The convict in question is the godmother and step-aunt of slain rapper Tupac Shakur. And she's been living in Cuba since 1984.
Assata Shakur, born JoAnne Chesimard, is a radical black activist found guilty in the 1973 murder of a New Jersey state trooper. She was imprisoned, but escaped in 1979 and fled to Cuba five years later.
Christie has been a leading advocate calling for her return to the United States to face justice. When President Barack Obama announced plans to restore diplomatic relations with Cuba last December, the governor penned a letter to the president urging him to demand Shakur's extradition as "an essential first step."
G/O Media may get a commission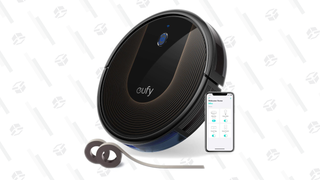 48% Off
Eufy BoostIQ RoboVac
In 2013, the FBI added Shakur (whom the bureau identifies as Chesimard) to its list of most-wanted domestic terrorists. The agency and the State of New Jersey are each offering million-dollar rewards for information that could lead to her capture.
The now 67-year-old Shakur disputes the evidence used to convict her of first-degree murder three decades ago.
While the FBI says Shakur opened fire on the officer, triggering a gun battle on the New Jersey Turnpike, she claims the officer was the aggressor and shot her while her hands were in the air.
Two other men were on the scene; one died from gunfire and the other was convicted as an accomplice. The slain officer, State Trooper Werner Foerster, was killed execution-style with his own service weapon.
Christie says the the issue is "personal" for him, and he wants to see Shakur brought back to the U.S. to serve time. Cuba should not interfere, according to the New Jersey governor, a presumptive candidate for the Republican presidential nomination.
"We have Cuba deciding to play judge, jury and harborer with JoAnne Chesimard," Christie said on Tuesday. "That's not right."
President Obama appears to be aware that the case is an obstacle for normalizing diplomatic relations. In a letter to Congress last week, the president said an ongoing dialogue with Cuba would "include discussions with the aim of resolving outstanding fugitive cases."
Ted Hesson was formerly the immigration editor at Fusion, covering the issue from Washington, D.C. He also writes about drug laws and (occasionally) baseball. On the side: guitars, urban biking, and fiction.