Google just made an interesting hire: Chris Poole, the founder and former owner of the image board 4chan, the anonymous messaging forum known as the 'rude, raunchy underbelly of the internet.' Poole announced the hire himself in a post on his tumblr this afternoon. The post, in true tech dude style, is titled "My next chapter." It's very brief, and reads as follows:

Today I'm excited to announce that I've joined Google.

When meeting with current and former Googlers, I continually find myself drawn to their intelligence, passion, and enthusiasm — as well as a universal desire to share it with others. I'm also impressed by Google's commitment to enabling these same talented people to tackle some of the world's most interesting and important problems.

I can't wait to contribute my own experience from a dozen years of building online communities, and to begin the next chapter of my career at such an incredible company.
Poole (who was also known by the moniker moot on 4chan) didn't add anything about what he'd be doing at Google. Shortly after Poole's post went up, though, Google VP for Streams, Photos, and Sharing Bradley Horowitz tweeted welcoming him aboard:
Horowitz is one of the minds that gave us Google+, and it's possible that given Poole's mention of "building online communities," he'll be working on that service (The Verge, among others, are speculating that that's the case). Asked for comment on the hire, Google simply referred me to an identical post by Horowitz on Google+.
Poole founded 4chan in 2003, when he was 15 years old. Last September he sold the site to Hiroyuki Nishimura, who founded (though no longer owns) 2channel, the Japanese image board on which Poole modeled 4chan. However, Poole had already stepped away from managing the site, leaving that to employees. That, he told Rolling Stone, was due in part to the rise of Gamergate on the board. He'd decided to ban Gamergate from 4chan, which led to the exodus of vengeful gamergaters to the less-moderated 8chan.
G/O Media may get a commission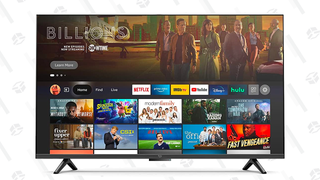 22% off
Amazon Fire TV - 50" Omni Series 4K - Early Access Deal
4chan's technology board is responding with a mix of glee, indifference, and rage. More interesting, though, is that some posters are alluding to a post last week on the board claiming that Poole was working for Google. Who was it? A mystery!
Anyway, it just goes to show you: if you found a website as a teen, it becomes a center for all sorts of weird and/or nasty activity, and you eventually lose control of it, you too can eventually work for Google.
Ethan Chiel is a reporter for Fusion, writing mostly about the internet and technology. You can (and should) email him at ethan.chiel@fusion.net