"Did you stop beating your wife, yes or no? Did you stop beating your wife, yes or no? Did you stop beating your wife? Answer, yes or no!"
The brain of Rev. Flip Benham, leader of the extremist Christian fundamentalist group "Operation Save America," based in North Carolina, seemed to be stuck on repeat, and he couldn't stop berating a reporter in Alabama with the same nonsensical question. Or, as right-wing commenters like to say, he was triggered.

Benham's meltdown happened in a hallway Wednesday afternoon outside of a meeting of "faith leaders" who had come to Birmingham to staunchly defend accused pedophile and U.S. Senate candidate Roy Moore.

The group Benham leads claims the Bible as its "foundation," and states on its website that, "Operation Save America unashamedly takes up the cause of preborn children in the name of Jesus Christ. We employ only biblical principles."

Abortion, the group argues, is the same as the Holocaust and slavery.

But its mission to "protect preborn children" apparently doesn't extend to children after they are born and then grow up to be teenagers who were (allegedly) sexually assaulted by Roy Moore. The hypocrisy is rich, to say the least. Of course, Moore continues to deny the allegations, blaming a conspiracy by The Washington Post and other "liberal" media types.

G/O Media may get a commission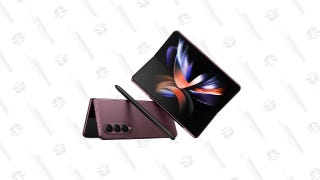 Save Up to $300
Galaxy Z Fold4
In the exchange, captured on video by local ABC 33/40 reporter Lauren Walsh, Benham refers to Moore detractors as "deranged people out here that are frothing at the mouth."

"Why don't you just take a look at yourself in the mirror," Benham tells one reporter.

Walsh, trying to do her job, then explained, "I am an Alabama reporter. I live in Birmingham. And, we haven't had a chance to ask our Senate candidate questions all week…We should be able to ask our candidate questions."

"Because of the mob mentality you've got," Benham fires back. "You just want, what you'd like to do is just bury him. And why? Why? What did he…Why? What did he do?"

Yes, Mr. Preacher Man, what did he do?

Watch the exchange: