It was widely reported on Thursday that President Donald Trump has narrowed his demonic list of possible Supreme Court nominees to three contenders: Judges Brett Kavanaugh, Raymond Kethledge, and Amy Coney Barrett.

But Trump isn't set to publicly announce his choice for a few days, and apparently, Senate Minority Leader Chuck Schumer, who is lucky (?) enough to have a direct line to the president, thought that the best thing to tell Trump was, "Here's a wild and wacky name to toss into the mix: How about...Merrick Garland?"
According to the Washington Post, Schumer suggested naming Garland—President Barack Obama's humiliatingly unsuccessful Supreme Court nominee—in a one-on-one phone call with Trump this past Tuesday, where he said Garland would help "unite the country."

(If this were an action movie, now would be the part when Schumer lights a match, drops it, and walks away like he's some kind of a badass. Only the explosion never comes, and he ends up looking like a doofus instead.)
By suggesting Garland—who currently serves as Chief Circuit Judge on the U.S. Court of Appeals for the District of Columbia Circuit—Schumer has perfectly captured the Democratic leadership's humiliating devotion to the false god of "civility": Pitch a failed, milquetoast moderate from a position of absolute weakness with no hopes of it actually happening.
G/O Media may get a commission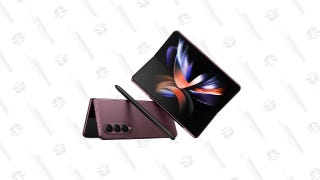 Save Up to $300
Galaxy Z Fold4
The three people whom Trump reportedly IS considering, meanwhile, are a who's who of ultra-conservatives who would gut workplace protections, make it harder for women to receive their own adequate healthcare, and largely harm the most vulnerable communities in the country.
Interestingly, Trump's own insatiable need to be a dick may end up nixing his suspected front-runner, Brett Kavanaugh. According to the Post's Robert Costa, Trump has been polling associates for their opinions on his shortlist, and has made a special point of noting that while Kavanaugh worked in the Bush White House, Raymond Kethledge did not. Which means it's entirely possible our next Supreme Court Justice could be picked in no small part simply because our president hates Jeb!—and by extension, his entire family—so much.
The president is expected to name his pick on Monday evening. I'm sure Merrick Garland is eagerly waiting by the phone.