AUSTIN, Texas—Zaira Garcia was 12 years old when she realized that her dad has no rights in the United States.
She remembers the exact moment it happened. She can still hear the laughter of the white men in cowboy boots.
Lea la versión en español aquí.
"One man had a big old smile on his face and said to me, 'Look sweetheart, tell your dad that when he can ask me in fluent English for the rest of his money, I will gladly write him a check'."
That's when the other men in boots burst into a deep belly laugh, as Zaira and her father stood there helplessly.
G/O Media may get a commission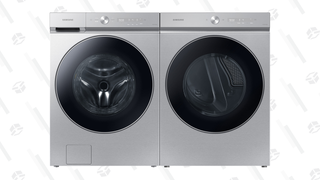 Get $500 back in credit
Last Chance: Samsung Bespoke AI Washer and Dryer Preorder
Zaira was translating for her father, an undocumented Mexican immigrant who had just finished installing hardwood floors for a client in Austin. Everybody was reportedly happy with Mr. Garcia's work. But when it came time to pay, the cowboy contractors cut a check that was missing a few digits. So Mr. Garcia asked his daughter for help inquiring about the rest of his pay.
Zaira, who was used to helping her dad find work by making English-language fliers, answering the phone like a secretary, and posting classifieds ads on Craigslist, was ready to help. "I was used to translating for my dad, so I had already learned how speak like a little adult," she said.
But she was just learning about the cruelty and racism of big adults. And when the men in boots started laughing at her dad, their flashing teeth tore a hole in her heart.
"My dad caught the gist of what they were saying, but he asked me to translate anyway. I just said, 'Daddy, they're not going to pay you. Let's go.' I was not going to be the one to humiliate my dad, my hero. This was just grown men bullying me. We had a silent ride home. My dad didn't speak for days."
Similarly horrible scenarios played out on subsequent jobs. Mr. Garcia, a trained craftsman who was trying to provide a living for his wife and four daughters, would take a job installing hardwood floors, just to get stiffed on payday.
"Look, I know your dad doesn't have papers. I don't have to pay him anything," one man told Zaira when she went to inquire about another unpaid job.
"All these times are very painful and hurtful. You feel impotent, but you can't do anything about it," Zaira says. "You have to suck it up, because when you are undocumented in this country, you don't have the right to have rights."
For Zaira and her three sisters—all in their 20s—there's a profound sadness, injustice and instability in a mixed-status family. The kids are all U.S. citizens by birthright, but their parents are viewed as second-rate criminals who could be captured and deported at any moment.
Zaira says her mom and dad gave up everything back in Mexico—their home, their families and even the basic rights of citizenship—to come to the United States to seek a better life. But even after 27 years of building their home and family in Texas, Mr. and Mrs. Garcia can never truly get comfortable here. Their American dream is more like fitful sleep. The knock on the door could come at any moment.
Mr. Garcia knows the risks. He was collared in an immigration raid in 1995 and deported back to Mexico. Zaira and her sisters were just little girls at the time, but "remember it like a dream"—a sad dream, one where dad wasn't there for Christmas.
Mr. Garcia sneaked back into the United States several weeks later, but it raised the stakes if he gets caught again. The penalty for illegal reentry is up to 25 years in jail. That means the next time Mr. Garcia gets pulled over with an expired driver's license (he hasn't been able to get it renewed for two years, due to stricter requirements), it could be a game changer for his whole family.
"This is a fear that we can never get rid of. If my dad runs out to buy milk, we never know what's going to happen to him. We don't know if something small is going to turn into something big," Zaira tells me, as her mom hands her a tissue on the couch. "If I run a red light, I pay a ticket. If my dad runs a red light, it could change our family's life forever. He is the foundation of this family. Our breadwinner. What would happen to us without him?"
The vulnerability that her parents live with everyday has imbued Zaira with something akin to survivor's guilt.
"I feel guilty for having basic rights while my parents, who are my everything, don't have rights," Zaira says. "Everything we have—this house, our college education, our lives here—are all thanks to their hard work and sacrifice. And they don't even have the right to live happily and enjoy it."
Zaira says she has spent years talking to lawyers about getting papers for her parents, but there's no legal path forward for them. Until now. Maybe.
In an act of frustration over Congress' unwillingness to pass comprehensive immigration reform, President Obama decided to go it alone in November 2014 by issuing an executive action that would provide work permits and temporary reprieve from deportation to millions of undocumented parents in mixed-status families—folks exactly like Mr. and Mrs. Garcia.
The provision is called Deferred Action for Parents of Americans and Lawful Permanent Residents, or DAPA as a timesaver. It's a companion piece to the Deferred Action for Childhood Arrivals (DACA), the immigration initiative that provides similar temporary legal status to undocumented immigrant children. Simply put, DAPA is to parents what DACA is to kids.
But DAPA isn't exactly a real thing yet. It's been on hold since February 2015, when the Fifth Circuit Court ordered an injunction on Obama's executive action four months after it was passed.
That legal battle, known as United States vs. Texas, will go before the Supreme Court next Monday. By June, the fate of Obama's controversial executive action—and ultimately the future of more than 4 million families in circumstances similar to the Garcias'—will be decided by eight people dressed in robes.
In total, 26 states have signed on to the lawsuit against Obama's executive action. They argue that the president overstepped his constitutional authority. The arguments against DAPA, spelled out in the amicus brief submitted by Senate Majority Leader Mitch McConnell and 42 Republican colleagues, cite a long list of previous court rulings emphasizing that Congress, not the president, is in charge of determining immigration policy. In other words, it's not up to Obama to decide who stays and who goes.
On a much deeper level, the Supreme Court will be ruling on arguments about separation of powers, the same issue that has been debated in this country since the days of the Federalist Papers. The Court's decision will be a big moment for the United States, the Obama administration, and certainly the Garcias.
It's a moment that Zaira won't miss. On Monday, she'll be on the steps of the Supreme Court with immigration reform advocacy organization FWD.us, giving a speech into a megaphone during a rally that's expected to draw several thousand demonstrators from across the country.
DAPA and DACA is not the end goal, Zaira says. It's a bridge to comprehensive immigration reform. But if that bridge gets wiped out by the Supreme Court, it will leave millions of immigrants stranded in a bad place.
"DAPA would be life-changing for us—I don't want to even think about what will happen if it doesn't pass," Zaira says. "To think how close we finally were to having some peace of mind!"
Mr. Garcia, meanwhile, seems to be taking everything with stoic determination, as I'm told he always has.
"What I've learned is that if you want to do something, nothing will stop you. And when you overcome obstacles, you learn to value life even more," he told me in Spanish. "We live each day as if it could be our last. And we will be together."