Thousands of pages of previously withheld documents from the Clinton administration were released on Friday, providing the public with new insight into the Clintons' handling of everything from healthcare reform to this phenomenon called "Internet."
Equally interesting is how the White House approached a then-brewing controversy over illegal immigration.
California Gov. Pete Wilson (R) had gained a national profile in the early 1990s as an outspoken hardliner on the issue.
Following his lead, voters in the state passed a controversial ballot initiative in 1994 called Proposition 187, which barred undocumented immigrants from accessing healthcare facilities and public schools.
Even before that measure passed, the White House was paying attention to Wilson.
Tom Epstein, a political aide to Clinton, penned a memo in May 1993 to senior adviser Rahm Emanuel about Wilson's efforts. He dismissed a number of bills introduced by state lawmakers as "punitive or even unconstitutional." Still, if the White House did nothing to address the issue, Epstein sensed political danger for Clinton, who positioned himself as a centrist Democrat.
G/O Media may get a commission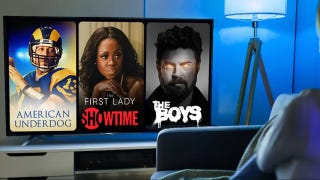 UNDER $1
99¢ Prime Video Channels
Here's what Epstein proposed:
The strategy was to isolate the White House from Republican attacks claiming it was soft on illegal immigration. How? Beef up border security! Epstein's advice about hiring a Latino to carry out a border crackdown comes across as cringeworthy, at best. (That idea didn't come to fruition under Clinton).
At the same time, Epstein wanted to "pummel" Wilson as the one who was truly responsible for immigrants without papers flowing across the southern border.
The immigration debate has changed in the last 20 years. With the emergence of Hispanic voters as a true power, Democrats (and a growing number of Republicans) now strive to project a more immigrant-friendly image. The Senate last year passed a bipartisan bill that would grant a pathway to citizenship to millions of undocumented immigrants.
But in even more ways, things haven't seemed to change at all. A Republican governor passing a harsh anti-immigrant measure that proved to be a self-inflicted wound? Check. A Democratic White House looking to prove to skeptics that it's not soft on "border security"? Check.
Has this arrangement run its course? That's a good question to put to Hillary Clinton as she weighs her own presidential bid.
Jordan Fabian is Fusion's politics editor, writing about campaigns, Congress, immigration, and more. When he's not working, you can find him at the ice rink or at home with his wife, Melissa.