Violent crime is up in the United States: Last year, there were 15,696 murders in the U.S., marking an 11% increase from 2014, according to federal crime statistics released Monday by the FBI. If you only read the headline, it's easy to think America really is coming undone, as Republican presidential candidate Donald Trump has been shouting ad nauseum since stepping into the political fray last year.
In a discussion about police tactics and crime during the first presidential debate Monday night, Trump interrupted Democratic nominee Hillary Clinton when she said the murder rate has steadily been dropping in New York City.
"No, you're wrong. You're wrong," Trump interjected. "Murders are up."
Neither of their statements were incorrect, nor were they entirely correct. The city saw 352 murders in 2015, up from 333 in 2014; but so far this year, they're slightly down from 2015 levels.
The FBI's latest data on the subject, while arguably vindicating some of Trump's premature declarations, doesn't show the full picture. By analyzing the full body of data and comparing it to historical trends, a more nuanced, less certain perspective emerges. Yes, murder is up and that's always a bad thing, but it and other violent crimes have been on a downward trend since the height of America's crime wave during the 1980s and '90s.
G/O Media may get a commission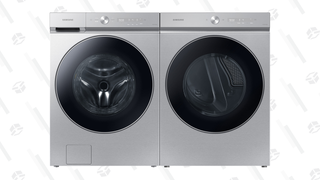 Get $500 back in credit
Last Chance: Samsung Bespoke AI Washer and Dryer Preorder
In fact, 2015 marked the sixth-lowest homicide rate the country has seen since 1966, according to an analysis of federal data by Harvard University's Fair Punishment Project. It also marked the third-lowest violent crime rate, overall, since 1971. Since these crime rates have already fallen so much, small upticks make for large percentage increases.
"It is not that we are saying the increase is not important, but instead that it takes small numbers to move the rate 10 or 12% because the crime rate is so slow. We are doing very well." William Lansdowne, former police chief of San Diego, San José, and Richmond, CA, said in a call on Friday with reporters.
In fact, the data reveals that America has been safer under President Barack Obama than under any other president for half a century. No year under Presidents Ronald Reagan, George H.W. Bush, Bill Clinton, or George W. Bush was as safe as 2015—the worst year of Obama's presidency—according to the Fair Punishment Project's analysis.
Trump, on the contrary, has painted a grim picture of mounting crime under Obama, while Clinton hopes to build on the overall downward trend that the president's administration has overseen.
"Decades of progress made in bringing down crime are now being reversed by this administration's rollback of criminal enforcement," Trump said in a July speech that focused on public safety issues, and was based on preliminary FBI data that was finalized Monday. "Homicides last year increased by 17 percent in America's 50 largest cities—that's the largest increase in 25 years."
Politifact called this statement "half-true," since it "ignored some significant cautionary notes" in the Washington Post article that he reportedly cited. The increases are scattershot, and present no discernable pattern, even if murders did increase in some cities such as Chicago and Baltimore, the Post found.
"Everything is basically anecdotal," Darrel Stephens, executive director of the Major Cities Chiefs Association, a professional association of police chiefs and sheriffs in the largest cities across America, Canada, and the UK, told the Post. "There's not a clear national picture that I've been able to discern of what might be contributing to the changes."
Drawing conclusions from a single year of data is unproductive. To understand the numbers, you have to consider them the in context of other years to notice a broader trend. And while any uptick in violent crimes is cause for concern, there's not enough data to suggest the overall downward trend has reversed itself.
"Violent crime is one-half of what it was in 1991. Property crime is down 40%," Clinton said during Monday night's debate. She was referring to Obama's record on lowering crime, but also that of her husband President Bill Clinton, who was president for most of the 1990s.
"We've had 25 years of very good cooperation," Clinton added.
Trump's assertions about America's rising crime rate "just don't jive with the facts," Obama said after Trump's speech in July. However, the public perception of crime is slightly in Trump's favor; a Gallup poll in April found that 53% of Americans were "a great deal" concerned about crime and violence—a 15-year high.
This rising concern comes amid a wave of protests against police brutality, leading some observers to support what's known as the "Ferguson effect": the idea that greater scrutiny of police officers after the 2014 shooting death of Michael Brown (and other highly publicized minority deaths at the hands of police) has caused the murder rate to increase because they're scared to do their jobs. Funded by the U.S. Justice Department, a National Institute of Justice study from earlier this year indeed found that "the homicide increase occurred in the immediate aftermath of controversial police use-of-force incidents," suggesting there's "stronger support for the Ferguson effect explanation" than Obama has publicly acknowledged.
"In today's YouTube world, are officers reluctant to get out of their cars and do the work that controls violent crime? Are officers answering 911 calls but avoiding the informal contact that keeps bad guys from standing around, especially with guns?" FBI Director James Comey asked in a speech at University of Chicago's law school last year.
"I don't know whether this explains it entirely, but I do have a strong sense that some part of the explanation is a chill wind blowing through American law enforcement over the last year. And that wind is surely changing behavior."

In response, U.S. Attorney General Loretta Lynch acknowledged the existence of anecdotal evidence, but said, "As all have noted, there's no data to support it."
Following the police-involved shooting death of Keith Lamont Scott in Charlotte, Trump cited the ensuing civil unrest as a reason to enforce stop-and-frisk policing nationally to cut back crime. The controversial tactic, which the New York Police Department started using in 2002, was deemed unconstitutional by a federal judge in 2013 and has largely been abandoned since then.

"If you're going to say that black and brown men and women who protest the police are the reason why crime is having an uptick, we want to say that is outright racist, and you are playing the Willie Horton card, the Southern Strategy card if you will," Michael McBride, a pastor at Berkeley's The Way Christian Center said in Friday's call with the Fair Punishment Project.
"I believe we don't need more unconstitutional policing to secure safety and security in our communities."
Trump and Clinton's dispute over a simple assertion during Monday night's debate—that is, whether the murder rate is up or down in New York City—illustrates their conflicting viewpoints, which are emblematic of this entire presidential campaign. From Trump, we hear doom and gloom; from Clinton, we hear hope and progress.
Daniel Rivero is a producer/reporter for Fusion who focuses on police and justice issues. He also skateboards, does a bunch of arts related things on his off time, and likes Cuban coffee.