Summer has come to an end and across the country hundreds of thousands of students are starting another year of high school.
They may not know it yet, but for many of these students, their chances of success in high school and college have already been determined. Last year, an estimated 270,000 Hispanic students dropped out of school; that's an average of 700 students every day.
"Look at their zip code and you more or less can tell whether they're going to be ready to pursue an education or not," says Eduardo Padron, president of Miami Dade College and chair of the White House's advisory commission on Hispanic education.
A big reason is how schools are funded, says Padron. On average, Latinos tend to go to schools with less experienced teachers, are more likely to receive a less rigorous curriculum and have less support to go to college.
"All you have to do is get in your car and visit some of the schools in the poor neighborhoods and then you go to the more wealthy neighborhood and look at the way the schools look," Padron said. "It's like day and night."
In 2013, the average investment per student in public schools was $11,800. But Latinos overwhelmingly live in states where school spending was well below that. Nearly 85 percent of Latinos live in states where the average investment was $1,000 less than the national average.
G/O Media may get a commission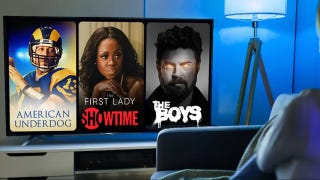 UNDER $1
99¢ Prime Video Channels
"California, Texas, Arizona, Nevada all rank at the very bottom of the 50 states in terms of their per pupil investment in schooling," said Patricia Gandara, author of the Latino Education Crisis. "That is exacerbated by the problem that in these schools we have overwhelming concentrations of students with higher needs."
Besides having to deal with homework and the typical problems of adolescence, many of these kids are also battling poverty, broken homes, language barriers and tentative immigration statuses — all of which pose significant obstacles to educational success.
Realizing the challenge, school administrators, educators and families have made some hard-earned progress. Recent studies show that Latinos are graduating high school and entering college at record levels.
Still, much remains to be done. An estimated 30 percent of all Hispanic students fail to graduate high school on time, and those who do find attending college an even more daunting challenge.
"I think it's one thing to say you're graduating high school. It's another thing to say you're graduating high school prepared to go on to college," says Angelica Solis, executive director for the Alliance for a Better Community.
About half of the students who graduate high school enroll in some sort of higher education institution. Many choose community colleges.
"In Los Angeles, we know that the majority of students that do graduate high school and go on to college, start at a community college," says Solis. "But we also know that they're not having a lot of success in community college. Only 29 percent of Latino students who say they go to a community college to seek a degree, actually get a degree."
The situation in New York City, the nation's largest school district, isn't any better says ASPIRA's Mark Gonzalez.
"The graduation rate for community college for Latinos is about 15 percent," says Gonzalez. "Usually what happens for students who are referred to community colleges, a lot of them are spending two years in remedial classes and by the time they actually get into core classes it's another two years."
At that point, many students feel they have spent a lot of money, time and energy and have little to show for it. Many chose to quit school for good.
The issues that emerge in college start in high school, experts say. It's a reason why only about 10 percent of Latinos have a four-year college degree, and so many remain stuck in low-paying jobs.
Graduating from college is the most surefire way to break through that economic barrier. But right now, the odds are stacked against Latinos, and that's why education should be the number one priority in this country, says Padron
"It's going to be the most important determinant in terms of whether we have high unemployment or not, whether we can increase productivity, whether we can compete with other nations and whether we can support the values that we stand for; the values of equal opportunity, equal access. That's what the American dream is all about."
Fusion's documentary The Last Border follows five high school seniors – Jasmine Salas, Luis Manuel Huerta, Francisco Sanchez, Dolores Pedraza and Jaime Peña – as they try to become the first graduates in their families.
Watch as they navigate the structural and social obstacles facing millions of students like them across the country.
The Last Border is narrated by Demian Bichir.
@fusion