For a while, it appeared that upcoming presidential elections in Colombia would be a referendum on the country's decades-long battle against Marxist guerrillas.
The incumbent, President Juan Manuel Santos, is engaged in some of the most extensive peace talks to date with the Revolutionary Armed Forces of Colombia (FARC), a group that has perpetrated kidnappings and acts of violence since its inception in the 1960s, and which is now steeped in the illegal drug trade.
A more conservative challenger, however — economist Oscar Ivan Zuluaga — had been advocating for a tougher approach to terrorism, saying he would scrap the peace negotiations altogether.
On Wednesday, though, Zuluaga reversed course, agreeing to "continue conversations" with the FARC if he is elected president.
G/O Media may get a commission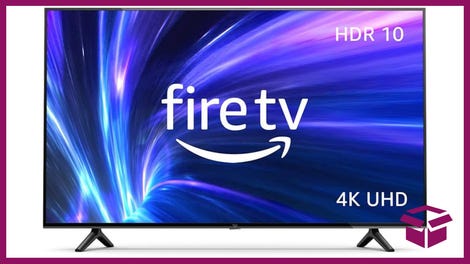 42% Off
Amazon Fire TV 50" 4K Smart TV
The move could be less of a genuine change of heart and more of a clever political tactic.
The first round of presidential voting took place on May 25. Zuluaga scored a surprising win, narrowly defeating Santos. Since neither candidate received more than 50 percent of the vote, the pair will now face one another in a June 15 runoff election.
Santos has campaigned hard on the peace talks. In TV commercials and in speeches, the president has repeatedly asked Colombians to vote for him so that he can finish off negotiations with the guerrillas, which began 18 months ago. If successful, the talks would end half a century of conflict between the rebels and Colombian government.
The outcome of the negotiations matter to the United States, as well. A peace accord in Colombia could mean new investment opportunities for U.S. companies, especially those that work in areas like oil exploration and mining, and have so far had a cautious approach to Colombia due to the risk of working in conflict zones.
On Thursday, Santos accused Zuluaga of changing his stance on the talks just to broaden his base of voters. According to recent polls, some 40 percent of Colombians support the peace talks.
"This is a surprising, cynical and opportunistic act," Santos told journalists in Bogota. Santos said that in the past, Zuluaga has "cast a shadow of doubt on the talks, and what we're negotiating there."
Zuluaga's supporters see no signs of opportunism however.
So where does Zuluaga really stand?
Alfredo Rangel, a security analyst who recently won a senate seat for Zuluaga's party, the Democratic Center, downplayed the candidate's shift on peace negotiations.
"There might be a change in his position," he said, "but it's only a subtle one."
In the document that spells out his new approach to the peace talks, Zuluaga says he will only continue talks with the FARC if the guerrillas stop attacking civilians and destroying public infrastructure projects around the country.
He gives the FARC a month-long deadline to stop "criminal activities" that also include the recruitment of children into their ranks.
That's a stricter approach than Santos'. During the 18 months during which negotiations have taken place, acts of war have continued, including attacks against oil infrastructure and police stations in remote towns across Colombia.
Santos argues that this approach, which also enables the army to continue to pressure the rebels in the field, has helped talks to go further than any past negotiation between the FARC and Colombia's government.
So far, both sides have agreed on a framework for rural development strategies, drug policy initiatives and how the guerrillas will participate in politics.
Three thematic areas are left in the negotiations, including agreements on how war victims will be compensated for their losses.
But the Zuluaga camp has said that it will "revise" the tentative accords made so far by the Santos government and the FARC if Zuluaga wins the election. Experts argue that this move would probably break up the talks.
Manuel Rueda is a correspondent for Fusion, covering Mexico and South America. He travels from donkey festivals, to salsa clubs to steamy places with cartel activity.