The second-most watched YouTube personality in Colombia has released an 11-minute video about being raised by two moms, just days ahead before a judge is supposed to decide whether same-sex couples are allowed to adopt children.
The decision has been left to one judge after eight Constitutional Court judges came to a split decision.
"If the judge says no to same-sex adoption then I hope you, the viewer, will at least respect other people's rights to live their lives after watching this video," Sebastián Villalobos, 19, explained in the YouTube video published on Sunday.
Villalobos took a break from creating comedy videos for a more personal issue.
"This video is very important to me," Villalobos told his 2.8 million followers on Facebook when he released the video. The video, which has more than 700,000 views as of Wednesday, has made headlines across the South American country's largest newspapers.
G/O Media may get a commission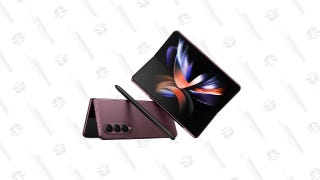 Save Up to $300
Galaxy Z Fold4
Villalobos says he created the video after a Colombian university submitted a study to the Constitutional Court that claimed children raised by same-sex parents were more likely to suffer from low self-esteem, stress, and uncertainty in future relationships. The university later retracted the study, according to El Tiempo, the country's most influential paper.
"I am Sebastián Villalobos, I'm not gay, I don't have any trauma, I don't have any psychological problems and no one in my family has psychological or emotional issues," Villalobos says in the video.
After a seven minute rant Villalobos introduces his family to viewers.
"This is my family," Villalobos says proudly with his entire family looking in to the camera.
Colombian same-sex couples are entitled to "de facto unions" that are supposed to provide them with the same equal rights that heterosexual couples can access.
"If [the Colombian judge] says yes to same sex adoptions we'll be able to tell the world, yes, we have excellent athletes, yes we have the world's most beautiful woman and now we're also a smarter country that accepts the diversity of all its inhabitants," Villalobos said.