Do you need a gift for the activist in your life? Do you think your activist friend might prefer you donating to a worthy charity in their name? No, no—what an absolute BORE that would be!

Thankfully, Vogue has got you covered, and created a gift guide "for the activist in your life." You know, gifts for your one friend who went to the Women's March. Or your other friend who went to the Women's March!!
The gift guide includes a $1300 HASHTAG TRUTH clutch:

G/O Media may get a commission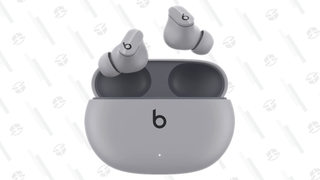 A $400 crystal-studded Michael Kors watch that says "watch hunger stop" on it—because if there's anything an activist knows, it's that sitting idly by and waiting for good things to happen is how the real work gets done:

A $128 Free People pajama set, because if you can dream it, you can bechieve it:
OK, I have to admit this is a pretty dope coat. Unclear how it ties into activism, though:

And, the pièce de faux résistance, a $1,000 brass chain bracelet. Hmm!

Commodifying social justice movements and selling it back to readers at a 1000% markup: now THAT'S what I call late-stage capitalism, baby!!