Everyone's least favorite aspect of taxi-hailing apps could soon be coming to the curb of your city.
The Washington Post reports that Washington D.C. is launching a system this spring where prices on traffic meters in the city fluctuate based on current demand for parking spaces, with the price going up as more and more spaces become occupied. In a downtown area covering about 1,000 spaces, prices will range from lows at about $2 an hour to highs capped at $8 an hour. The rates are determined on-the-fly based on how many spaces are currently available, using curbside sensors.
The nation's capital is just the latest to get on board with dynamic costs for street parking. Surge pricing, the bane of the drunk night out that most associate with car service Uber, is finding a home in downtown parking meters.
Cities see demand pricing for parking as a simple way to reduce urban gridlock while increasing the number of parking spaces open and available. Higher prices will encourage more people to find alternate modes of transportation during peak hours, the logic goes, while leaving a few spaces open for those willing to pay the additional premium. When you pair that with an app or service that tells drivers when parking is or isn't available, it should free up downtown streets.
This model has its detractors, including, most obviously, those who will inevitably find themselves paying exorbitant rates for uncovered street parking. More seriously, the Washington Post cites AAA Mid-Atlantic spokesman John B. Townsend II as saying it could make downtown areas less accessible to lower income families.
G/O Media may get a commission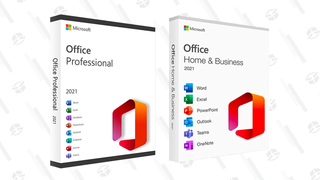 89% off
Microsoft Office Professional 2021 Lifetime License
"It favors people who are well-to-do, well-heeled and who have expense accounts," Townsend told the Post. More expensive parking could mean that downtown will be effectively closed off to those with less disposable income, given the inconvenience and unreliability of many public transit systems.
Washington joins a handful of other cities that have implemented or considered implementing demand pricing for parking to clear up congestion and raise additional revenue.
San Francisco, for example, has had demand pricing in some neighborhoods since 2011, but controversy has kept it out of others. The city's SFPark agency has data online showing how its fares have been adjusted over time, whether up or down. Los Angeles's LA Express Park program recently celebrated its first major expansion beyond downtown Los Angeles to the neighborhood of Westwood. And Seattle varies its parking depending on the time of day, with rates based upon demand.
Other cities are experimenting. Pittsburgh's Carnegie Mellon University conducted a pilot program into demand pricing on the streets near its campus; the professors running the program claimed they raised revenue and kept occupancy down. Boston, meanwhile, home to the $650,000 parking space, is looking into demand pricing as a way to free up downtown congestion, but needs to install more "smart" meters first.
These kinds of pricing models are only possible now that the technology is available to collect and process the information; now that it exists, it is unlikely to go away. Taxis, energy utilities and theme parks are all well on their way, joining hotels and airlines in demand-based pricing.
Parking meters, then, could be just the latest to fall. Leave your quarters at home: You're probably gonna need to bring the big bills.