window;
Tom Hanks, two-time Academy Award winner and admitted hoarder of typewriters, is boldly and unexpectedly venturing into Kim Kardashian territory (#savedyouaclick: not a sex tape).
Hanks, whose passion for vintage word processors is well-known, is the latest in a long line of celebs to dabble in the world of apps. The "Hanx Writer" enables anyone with an iPad to experience the pleasures of Ye Olde Typewriter by recreating vintage fonts and click-clack noises to each keystroke.
In his own words: "Hanx Writer is just my little gift to the future Luddite hipsters of the world."
While Kim and Hanx (as Hanks refers to himself on Twitter) are the most recent players in the game, there are some other celebrity app-collabs that shouldn't be missed. Here are a few exceptionally ridiculous standouts:
Wake Up With Pamela
The only thing worse than waking up for work is the sound of the alarm. Seriously. Who wants to start their day with this? Wake Up With Pamela, which debuted in 2010, replaces the terrifying sound of a 10-alarm fire with a poorly shot video of an apparently post-coital Pamela Anderson cooing lines like, "Good morning, handsome," "Hello," and "C'mon baby, it's time to get up."
"I like this alarm hot girl wake you up sweet girl in your dream," writes one satisfied reviewer.
G/O Media may get a commission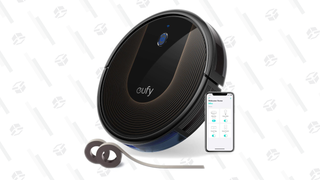 48% Off
Eufy BoostIQ RoboVac
Do you need any more convincing?
Snoopify
Less sexy but equally useful is Snoop Lion's "Snoopify," which lets users photoshop blunts, beers and gold bars into otherwise-boring photos. Here's a photo of John Boehner that's been Snoopified to fantastic effect:
Beat That Boardwalk with DJ Pauly D
We've all wondered what it's like to spend an evening in DJ Pauly D's shoes. Thanks to "Beat That Boardwalk," that dream can be a virtual reality. Players embody Paul DelVecchio (of Jersey Shore and Britney Spears Femme Fatale tour fame) by guiding him down Jersey's boardwalk in search of pizza, babes and boomboxes.
It's Britney
Speaking of Britney…
Not much to add here. Except that the app includes the ingenious "Shake Shake Shake" feature. Users need only to shake their phone in order to hear Britney say "It's Britney, Bitch."
Kristin Cavallari Official App
Sure it's fun to shake your phone and hear Britney recite her best line. But apps are meant to be functional, too. That's where Kristin Cavallari — Laguna Beach has-been and "Dancing With the Stars" not-winner — comes in. Just download her official app for Kristen's exclusive "tips, tricks and insight on health, wellness, fashion, beauty and becoming a new parent."
Here's a taste (the fact that Kristin's Pinterest board functions as her "daily newspaper" makes too much sense):
Justin Bieber's Shots
We'll round things out with another highly functional celebrity app from Justin Bieber which lets users share selfies (because of course). "Shots" got a lot of attention when it was released in 2013, and it's still, inexplicably, going strong. The app reached 1 million downloads back in March, and reportedly gets 750,000 active users per month.
Compared to Beat That Boardwalk and Wake Up With Pamela, the Hanx Writer is sounding pretty good.
Alexandra DiPalma is a producer for Fusion Lightworks, Fusion's In-house Branded Content Agency.