A recent educational article in Teen Vogue magazine about anal sex has all of the elements to whip religious extremists into a frenzy. In fact, don't even read it, just skip straight to the Book of Revelation in your Bible, because the world is going to hell.
Teen Vogue's Digital Editorial Director Phillip Picardi took to Twitter on Friday to respond to a #PullTeenVogue campaign circulating on social media because of the article. The campaign is pretty much what you'd expect it to be and is based on the philosophy that when it comes to education about sex, it's better to keep your kids in the dark, because they'll never take their inquiries to Google.

"We published a 411 on Anal Sex story on @TeenVogue as a continued part of our sex education coverage," Picardi wrote. "I monitor the webmaster email and have been inundated with hate mail saying we promote sodomy and want teens to get AIDS."

Picardi relates his own personal experience attending a Catholic high school while growing up, where there was "0 sex education."

G/O Media may get a commission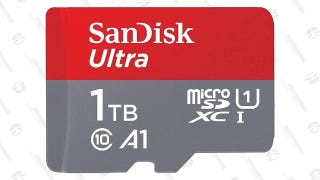 Save $75
SanDisk Ultra 1TB MicroSDXC Card
"I also had a teacher tell me gay sex was a sin in God's eyes," he says.

For those of us who had a strict religious and "moralistic" educational upbringing, where anything sex–related is taboo, much less anal sex, which, God forbid, is of the devil, the type of straight–forward information the magazine provides is a godsend, especially for teenagers still trying to figure things out. Because, as Picardi points out, studies clearly show that preaching abstinence will only lead to higher rates of sexually transmitted diseases and teen pregnancies.

All of this was lost on Elizabeth Johnston, however, who calls herself "The Activist Mommy." Johnston is pushing the #PullTeenVogue campaign with a dramatic video that shows her burning a copy of Teen Vogue and urging other parents to do the same.

"I cannot believe what this Teen Vogue piece of trash has printed in its June edition," Johnston says in the video. "We should not be teaching children, period, how to have sex."

Before the video's dramatic finale where The Activist Mommy rips apart a physical copy of Teen Vogue page by page and tosses it onto a fire in what appears to be her backyard, she pleads, "Parents, I am asking you to go to your local gas stations, your local libraries, and your local grocery stores, and ask to speak to the manager, or preferably the owner, and demand that they remove Teen Vogue from the shelves immediately."



One other thing appears to have been lost on Johnston: The actual article, titled, "Anal Sex: What You Need to Know," did not appear in the print edition of Teen Vogue, much less the "June edition." It was published online—in July.