CNN published an article on Tuesday based on interviews with dozens of people speaking anonymously about sexual harassment on Capitol Hill that revealed an unwritten roster of male legislators notorious for their alleged inappropriate behavior, which multiple people referred to as the "creep list."

According to CNN, two congressmen from California and Texas were independently singled out by multiple people:

More than half a dozen interviewees independently named one California congressman for pursuing female staffers; another half dozen pointed to a Texas congressman for engaging in inappropriate behavior. CNN is not naming either of those lawmakers because the stories are unverified.
The existence of different forms of Shitty Congressmen lists is nothing new—back in 2015, Vox reported on the experience of a strategist who, upon moving to D.C., had "three different women give her lists of which members of Congress she should avoid being alone in a room with. The lists included members from both parties, and there were enough of them that all three lists had different names."

Congress's outdated sexual harassment policies have also recently come under increased scrutiny. Capitol Hill staffers can file complaints to the Office of Compliance, an independent agency whose process just for reporting incidents can drag on for months. Unlike most other federal agencies, Congress does not require sexual harassment training.
G/O Media may get a commission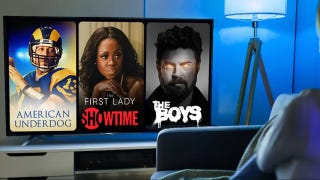 UNDER $1
99¢ Prime Video Channels
Post-Harvey Weinstein, more than 1,500 congressional aides signed a letter to push lawmakers to address the inadequacy of their own policies. Last week, the Senate passed legislation requiring mandatory sexual harassment training for senators and aides. They have yet to streamline the OOC's lengthy reporting process, but both Senator Kirsten Gillibrand and Representative Jackie Speier are pushing for legislation to do so.
The Weinstein moment has forced many industries to confront their failings when it comes to sexual harassment and abuse. While implementing more robust reporting processes and training will surely help protect staffers on Capitol Hill, the problem runs deep. As Alexis Ronickher, an employment lawyer who works with numerous Hill clients, recently told me, "I don't think the policies are out of date, they're exactly how Congress intended them to be. Which is to provide more protection and create more hurdles for staffers than other folks have."
It's an entrenched issue that won't completely go away, even with better policies. Congress has extremely lopsided gender and racial dynamics—only 19% of elected representatives are women and only 19% are non-white. And when the allegations of child sexual abuse against U.S. Senate candidate Roy Moore first came out, we saw a not insignificant number of male Republican lawmakers drag their feet in condemning a member of their party.
As Rebecca Traister wrote in New York magazine on Monday about the recent Democratic electoral sweep, where multiple women, including women of color and LGBTQ women, won elections over male candidates:"This wasn't just about retribution; it was about replacement." Likewise, rooting out the members of Congress's "creep list" will also require fully replacing those creeps by getting them out of the halls of our nation's Capitol.