On Tuesday night, the U.S. Senate unanimously passed a bill that includes a provision allowing U.S. citizens to own property in space.
H.R. 2262, also known as the U.S. Commercial Space Launch Competitiveness Act, was introduced to the House by Rep. Kevin McCarthy (R-CA) in May of this year. It stipulates that:

A United States citizen engaged in commercial recovery of an asteroid resource or a space resource under this chapter shall be entitled to any asteroid resource or space resource obtained, including to possess, own, transport, use, and sell the asteroid resource or space resource obtained in accordance with applicable law, including the international obligations of the United States.
Space and asteroid resources could include water and minerals:
G/O Media may get a commission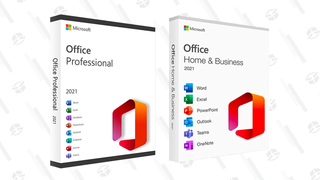 89% off
Microsoft Office Professional 2021 Lifetime License
The move was met with support by the likes of Planetary Resources, an asteroid mining company, which said in a statement that, "this legislation creates a pro-growth environment for the development of the commercial space industry by encouraging private sector investment and ensuring a more stable and predictable regulatory regime." The statement continues, "This law is important for the industry and is integral to protecting and supporting U.S. interests as the commercial space sector continues to expand."
Back in July, Planetary Resources co-founder and co-chairman Peter Diamandis commented on the importance of the act. Diamandis draws a direct parallel between how U.S. law fostered America's historical expansion into the West, and how the current bill could bolster the hypothetical expansion of private firms—like Planetary Resources—into the cosmos:
Members of the Senate also praised the legislation. McCarthy said in a statement, "The growth in commercial space represents the exceptionalism of the men and women who have led this country to heights not thought possible."
House Science Committee Chairman Lamar Smith (R-Texas) added, "This bill provides the boost America's private space partners need as they lead the world into the future… [and] will keep America at the forefront of aerospace technology, create jobs, reduce red tape, promote safety, and inspire the next generation of explorers." Others lauded the bill's job creation potential in Earthly space hubs like Texas and Florida.
H.R. 2262 also paves the way for a space to be business-friendly in a number of other ways. For one, the bill renames the section of the Department of Commerce that would rule space business practices: The Office of Space Commercialization is now the Office of Space Commerce. In other words, the future is here. The bill also puts the Department of Transportation, along with NASA, in charge of figuring out a way of monitoring traffic in space:
And, interestingly, the law of space is the law of the federal courts:
And, in a nod to NASA, agrees that the International Space Station should remain open until 2024.
Danielle Wiener-Bronner is a news reporter.