Lawmakers in Washington have been so busy trying to reshape our tax code that they missed a deadline to fund a health program that ensures nearly nine million children.

The Children's Health Insurance Program known as CHIP has enjoyed bipartisan support for nearly 20 years—until now. Legislators missed the September 30 deadline to renew CHIP as they "bickered over other healthcare issues, primarily the latest Republican-led push to repeal and replace the Affordable Care Act," NBC News reported.
An estimated 370,000 pregnant women also rely on healthcare funded by CHIP.
Last week, health officials in Virginia sent letters to the parents of 68,000 children warning them that their children CHIP coverage would end on January 31 if Congress doesn't take action.
"This is the ultimate bad Christmas carol story. This may be the most shameful day in the history of Congress," Rep. Jackie Speier, D-Calif., said at a news conference on Tuesday. In California, 1.3 million minors rely on healthcare funded by CHIP.
Lawmakers will reportedly try to renew the program, but states are already warning parents that insurance for their children will end soon. Better luck next year.
G/O Media may get a commission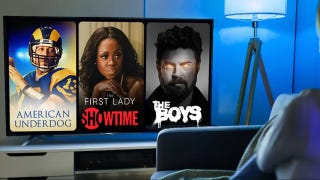 UNDER $1
99¢ Prime Video Channels
CHIP's impact is particularly important to children of color, who are disproportionately represented among CHIP beneficiaries because they are more likely to be economically disadvantaged, according to a Georgetown University Health Policy Institute study.

Spiers said children who benefit from CHIP are not eligible for Medicaid and their families can't afford to buy insurance available through the Affordable Care Act.
"What we're doing here today is basically saying, 'Wealthy Americans, big fat Christmas present for you; Tiny Tim, we're taking your crutch away from you and all the other kids in this country,'" Speier said.