Given congressman and civil rights icon John Lewis' legacy as a staunch progressive—one whose entire public life has been dedicated to giving voice to the marginalized and oppressed—it's surprising, then, to hear him heckled so vociferously by angry protesters during an on-air interview about his party's historic nomination of Hillary Clinton, the first female major party presidential candidate in United States history.
Speaking with MSNBC's Tamron Hall outside the Democratic National Convention on Thursday morning, Lewis was interrupted multiple times with shouts of "bullshit" and "she stole it" as he praised his party for selecting Clinton as their standard-bearer.
"You know, we have elected a person of color for two terms. He broke barriers, President Barack Obama did in his way," Lewis told Hall. "And tonight, this night, we're going to nominate a woman."
From the crowd assembled to watch the segment being filmed, a woman can be heard angrily shouting "she stole it!" as Lewis pauses, appearing momentarily flustered by the interruption, before describing Clinton's nomination as "the end of another long struggle in America."
Several more people can then be heard joining the chant of "she stole it," with one punctuating their protestations with "never Hillary!"
G/O Media may get a commission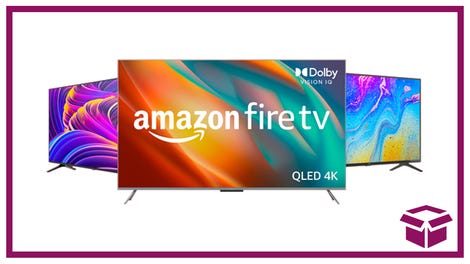 Ooh. stunning.
New Amazon Fire TVs
"Her nomination is going to inspire young women, young girls, young men, all over America and all over the world," Lewis goes on to explain to Hall. "I've said it a few years ago—"
"Bullshit!" someone can be heard yelling from the crowd, Lewis appearing to suppress a chuckle.
As Hall moves away from this year's election to ask Lewis about the documentary film depicting his life, another angry protester can be heard yelling "election fraud!" in the background.
Every day of this year's DNC has in some way or another, been marked by public outbursts against Hillary Clinton's nomination, both in the form of disruptions in the convention hall itself, and protests outside. In many cases, the frustration has been fueled not only by the contentious primary race between Clinton and Vermont senator Bernie Sanders, but by the recent revelations that the Democratic National Committee may not have been impartial mediators during that time.
Lewis has been a vocal Clinton ally this election, eight years after having switched his support from the former First Lady to then-Senator Barack Obama during her first presidential campaign.
Hall goes on to acknowledge the interruptions, calling some of them "ugly and vitriolic," and asking how Lewis, given his history as a civil rights leader, might explain to those frustrated by Clinton's victory the larger context of what's at stake in this election.
"I think it's so important that we recognize the fact that we win some, and sometimes we lose some," Lewis explained. "But we never give up. We never become bitter or hostile. I was beaten, left bloody, left unconscious, fighting for the right to vote. But I never became bitter. I never lost hope."
Following his interview with Hall, Lewis reiterated his positive message on twitter, telling his nearly 200,000 followers: