It doesn't appear that being shot nearly to death and then being saved by a queer black woman has changed bigoted, pro–gun–lobby congressman Steve Scalise's mind about any of his backward ideals.
Since being brought back from death's door and then returning to Congress to a standing ovation from his colleagues in late September, Scalise seems to have doubled down on his far–right, pro–gun, anti–LGBTQ beliefs.

First, after being a victim of gun violence himself, Scalise rejected calls for tougher gun legislation following the biggest mass shooting in U.S. history this week in Las Vegas. In his first televised appearance since returning to the House, Scalise told Fox News' Martha MacCallum that his shooting during a congressional baseball practice last June not only hasn't reversed his staunch pro–gun stance, but rather it has "fortified it."

"When there's a tragedy like this, the first thing we should be thinking about is praying for the people that were injured," he told MacCallum. Hearts and prayers.

Also injured that day back in June was the woman who saved Scalise's life, Capitol Police officer Crystal Griner. She and another officer took out the shooter, James Hodgkinson, and prevented an even bigger massacre, according to witnesses.

G/O Media may get a commission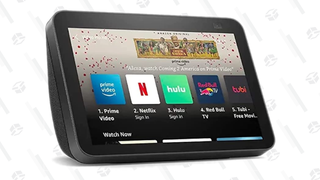 None of this appears to matter to Scalise, who is scheduled to speak Oct. 13 at the Values Voter Summit (VVS), a political convention attended by the who's who of the far religious right and sponsored by the Family Research Council (FRC). The Southern Poverty Law Center has called the FRC a hate group due to its relentless attacks on the LGBTQ community over the past two decades and links to white supremacy groups by some of its members.

Attacking the LGBTQ community has been one of the FRC's primary activities as a religious right lobbying group, and members have influenced some of the draconian policies promoted by the administration of President Donald Trump.

Among the things the FRC has promoted over the many years of its existence is the false association that gays and lesbians are more likely to sexually abuse children than heterosexual men and women, and that people are "recruited" into the gay lifestyle and, therefore, can be "un–recruited" via "reparative therapy."

The group also has spent a considerable amount of time and resources fighting same–sex marriage in the U.S., as has Scalise, who authored Louisiana's 2004 ban on same–sex marriage while a member of that state's legislature.

Scalise's participation in this year's VVS summit in Washington was announced by FRC president Tony Perkins, also a powerful political insider and a member of the extreme religious right who espouses deeply hateful views.

Referring to Scalise, Perkins said in an emailed statement, "For so many Americans, seeing him back at work, defending our values, has been an answer to prayer — and we look forward to celebrating his incredible journey back to health next Friday, October 13."

Perkins was once a Louisiana state representative, had links to former KKK grand wizard David Duke, and delivered a 2001 speech to a white supremacist group while standing in front of a Confederate flag, according to the SPLC. (Perkins claimed he didn't know he was speaking to a white supremacist group.) Scalise, meanwhile, used to sell himself politically as "David Duke without the baggage."

According to the SPLC, the FRC was born out of James Dobson's right–wing religious group Focus on the Family in the '80s out of concern that their political lobbying would jeopardize Focus on the Family's tax–exempt status. Now, the FRC continues to strongly promote "the 'ex-gay' movement as a way to combat LGBT civil rights measures."

So, confronted with a life–changing event that seems to challenge every deep–seated prejudice espoused by Scalise throughout his entire political career, this Louisiana politician doesn't seem to have learned anything. And that's a damn shame.