Stocks, if you haven't already heard, are bad. And, as it happens, President Donald Trump is also bad.

With that in mind, we find ourselves winding down this accursed year in a truly awful nexus between bad and also-bad. To make matters worse, the best idea some of the people who used to be in charge of economic policy can come up with is basically as follows: Trump should stop doing the bad tweets that make the stocks so bad.
Here's the Wall Street Journal on Tuesday:
Gary Cohn, the president's former top economic adviser, told the White House recently that Mr. Trump's tweet declaring himself a "Tariff Man" was unhelpful and triggered substantial losses in the Dow Jones Industrial Average, people familiar with the matter said.

Mr. Trump tweeted on Dec. 4 shortly after a meeting with Chinese President Xi Jinping appeared to inspire hope among investors that the U.S. would reach a cease-fire in the trade war with China. Since then, financial markets have fallen further, with the Dow closing on Christmas Eve at its lowest level in more than 15 months.

On Christmas Day, a former senior Republican Treasury Department official spoke to Mr. Mnuchin and told him that Mr. Trump's tweets and "dysfunctional" governing style were causing stock indexes to plummet, the former official said.

This person suggested that Mr. Mnuchin tell Mr. Trump to stop tweeting—advice the president frequently gets and seldom seems to heed.
G/O Media may get a commission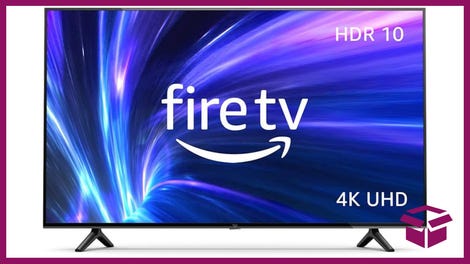 42% Off
Amazon Fire TV 50" 4K Smart TV
What we have now is essentially a reverse Oliver: Instead of a poor, disheveled orphan begging for more gruel, we have a disgustingly rich Treasury secretary being told to beg for fewer tweets. This is how the government works now.
Of course, given that Mnuchin's been a colossal screw-up lately, it's unclear whether his "never tweet" message—should he choose to deliver it—would even have much of an effect on the president. Despite the fact that "Mnuchin aides have been scrambling to find economic data to help their boss calm Trump down," per a CNN report on Wednesday, Trump is apparently none too pleased with his treasury secretary of late.
"Mnuchin is under the gun," an anonymous source "close to the White House" told CNN.
Perhaps both these obscenely wealthy men should get out of politics entirely and go back to what they're good at: Producing LEGO movies and complaining about Ghostbusters.