Tim Loehmann, the Cleveland police officer who shot and killed a 12-year-old African-American after mistaking a BB gun for an assault rifle, was described as a blubbering mess who was unfit for police duty by his former department, according to public records.
Loehmann shot and killed Tamir Rice in a playground on Nov. 22 after responding to a 911 call by a neighbor who reported a boy with a gun, which turned out to be an air rifle .
Before joining the Cleveland police force, Loehmann worked as a patrolman in the nearby city of Independence. But he only lasted six months on the job, after the department recommended his release from the force based on unstable behavior.
According to a Nov. 29, 2012, memo to the Independence Police Department's human resource department, Loehmann was described as emotionally volatile, reportedly over a relationship with a woman. In one instance Loehmann was described as "distracted and weepy" on the firing range and had to have his weapon taken away from him.  In another instance, Loehmann reportedly lost his composure and couldn't get out of the police car during a routine errand.
"During this drive, Sgt. Tinnirello continued to speak with Tim about his problems, and Ptl. Loehmann continued with his emotional meltdown to a point where Sgt. Tinnirello could not take him into the store, so they went to get something to eat and he continued to try and calm Ptl. Loehman," the memo reads.
G/O Media may get a commission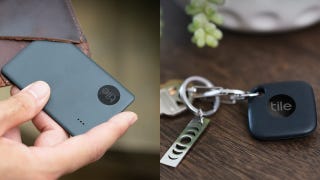 Up to 35% off
Tile Item Trackers
During that particular incident, Loehmann reportedly told the other officer: "I should have gone to NY," "'maybe I should quit," "I have no friends,"'I only hang out with 73 yr old priests," "I have cried every day for 4 months about this girl."
The memo concludes with a blunt assessment of Loehmann's future potential as a police officer:
"Unfortunately in law enforcement there are times when instructions need to be followed to the letter, and I am under the impression Ptl. Loehmann, under certain circumstances, will not react in the way instructed," the memo states. "I do not believe time, nor training, will be able to change or correct these deficiencies."
Loehmann resigned from his post several days after the memo was written. He joined the Cleveland Police Department last March. The department did not immediately return Fusion's request for comment.
After the shooting Rice, Loehmann and his partner were put on paid administrative leave, but have since returned to active duty. Neither Loehmann nor his partner have been assigned to patrol duty since the fatal encounter. Cleveland PD's use of deadly force investigation team is still looking into the Rice shooting, according to the Cleveland Plain Dealer.
Fidel Martinez is an editor at Fusion.net. He's also a Texas native and a lifelong El Tri fan.
Ted Hesson was formerly the immigration editor at Fusion, covering the issue from Washington, D.C. He also writes about drug laws and (occasionally) baseball. On the side: guitars, urban biking, and fiction.