Sen. Cory Booker called for "immediate" criminal-justice reform at Fusion's RiseUp summit Wednesday, but said that recent midterm elections that gave Congressional Republicans more power could derail those efforts.
WATCH Cory Booker's full interview here
"We have a criminal-justice system that is in immediate need of reform," Booker told moderator and Fusion anchor Alicia Menendez. "We have more blacks in this country under criminal supervision than all the slaves in 1850."
The New Jersey senator also called on young voters to get more involved in the political process.
"If you're not voting because you think all politicians are the same, you're hurting our country," he said. "We have so much power, we just didn't show up at the polls.
He's referring to this month's midterm elections, which had the lowest voter turnout since World War II. Only one in five voters under 30 cast ballots, an abstention rate that helped Republicans take control of the Senate and expand their majority in the House.
G/O Media may get a commission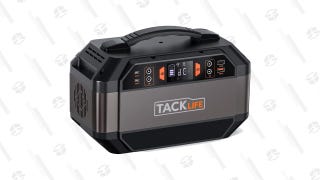 Tacklife Portable Solar Generator
Booker said that could have a profound impact on issues such as criminal-justice reform.
"We have a political system that seems to reward exactly what we say we're against in the next breath," he said.
Booker is working with Republican Sen. Rand Paul (Ky.) on a sentencing reform bill that would prevent many minors from being tried as adults and make it easier for non-violent offenders to find work.
But ultimately it's up to millennials to inspire real change, he said.
"Think about all the activists who refuse to give up. America needs heroes of hope, not pessimism," he said. "People who surrender to cynicism, I have very little patience for you."
Jordan Fabian is Fusion's politics editor, writing about campaigns, Congress, immigration, and more. When he's not working, you can find him at the ice rink or at home with his wife, Melissa.