When doctors devote their expertise to helping women have better sex, the world tends to freak out. It's happened before, and it's happening again now with the possible approval of a "female Viagra" that would help women (with clinically low sexual drive) increase sexual desire.
Basically, acknowledging that women might need a little extra help "getting it up" means acknowledging that women might be dissatisfied with a lack of action in the bedroom—and, historically, that's not something we like to talk about.
Related: What does 'female Viagra' treat, exactly?
But thanks to the work of earlier generations, it's gotten a lot easier for women to take ownership of their sexuality. A little over a century ago, sex—even within marriage—was not viewed as a positive, intimate experience. It was just a necessary step toward procreating.
Between the early 20th century and the possible approval of a pill to boost women's sex drives, there was, of course, a sexual revolution that completely radicalized the way women are able to have and talk about sex. That sexual revolution came with the approval and sale of a breakthrough drug—the first oral contraceptive. The Pill allowed women to be confident that sex wouldn't result in pregnancy, which meant that women could have sex whenever they wanted without (as much) risk of being publicly shamed.
G/O Media may get a commission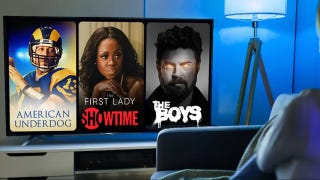 UNDER $1
99¢ Prime Video Channels
And now, with the possible FDA approval of flibanserin on the horizon, we're one step closer to giving women total authority over their vaginas. So is it possible that the U.S. is on the brink of the next sexual "revolution"?
Early 1900s: The social hygiene movement
Think of the early 1900s as the necessary overture to the free love era of the '60s. As John D'Emilio, co-author of Intimate Matters: A History of Sexuality in America, told Fusion, "It's useful to think of the turn of the century as a period of sexual conflict."Before the early 20th century, he said, sex was seen as an "uncontrollable impulse" that was only necessary for making babies.
Changes in American life toward the turn of the century made sex—the unspoken deed Americans were doing but definitely not talking about—unignorable. People were moving away from rural areas and into the cities, and young people were leaving home to work and go to school. Urban nightlife exploded and concentrations of people in cities made prostitution more visible than ever before. Concerned about the possibility that these growing urban populations and unsupervised youth would lead to an uptick in what were then called venereal diseases, a group of Progressives started identifying themselves as "social hygienists." "Social" meaning "sex."
Related: So fresh: The rise and fall of the douche
These social hygienists wanted a few things. One was to start educating America's youth about sex and how STDs could be spread (hence the term "hygiene"). Another was to put an end to the idea that men and women were inherently sexually different from one another. As Kristin Luker writes in her book, When Sex Goes to School, for the social hygienists, prostitution "was the visible and noxious symbol of this double standard."
Her logic? During this era, the prevailing idea was that men had different needs than women, and if men weren't having enough sex, their health would suffer. And since "honorable" women weren't supposed to be subject to raw male sexual impulse, "dishonorable women" (prostitutes) existed as a receptacle for this permanently unquenched male thirst.
To succeed, the social hygienists would first have to propel sex into the public conversation. Luckily for them, because people were so worried about the growing threat of STDs—which not only threatened health, but were a serious damper on social status—powerful supporters started joining their ranks. Political and economic weight was added to the fight for sex education in American schools. People were slowly starting to talk about sex.
As D'Emilio told Fusion, at the time, acknowledging sex as something that could potentially be positive—even if only within marriage and on clean, safe terms—was huge. Those conversations set the stage for climactic revolution in the '60s and '70s.
1960s: Sex without babies
A number of things happened just before the '60s that put the cultural climate at the right temperature for a full-fledged revolution. Julia Mickenburg, an American Studies professor from the University of Texas, explained that the huge rise in a youth culture created an atmosphere for changing sexual attitudes. "It's this sense that what young people have been taught by adults is bullshit—they've been taught to obey authority and are starting to really question the world that they've grown into," Mickenburg told Fusion. "All of that has this effect of breaking down barriers that were much stronger."
Related: Are you a slut? Take our quiz and find out!
By the end of the `50s, we also had scientific, albeit very controversial, data that proved women enjoyed sex. Alfred Kinsey's second book of research, Sexual Behavior in the Human Female, revealed that women in America were out there having sex regularly, and liking it! Sometimes they were even (gasp) getting off without the help of a man at all. But still, without an easily accessible, surefire way of preventing pregnancy—the very visible consequence of a satisfied sexual impulse—women couldn't have sex as freely as men.
And then, in 1960, the FDA approved a pill called Enovid—previously used to help tame menstrual issues—to be used to stop ovulation in premenopausal women, effectively erasing the unintended outcome of pregnancy from women's sex lives. But it didn't come without plenty of controversy, not unlike the modern discourse around flibanserin, or "female Viagra."
"When it was finally approved, [the Pill] stimulated two different kinds of controversy," said D'Emilio. One was safety—while Enovid is still one of the most rigorously field-tested drugs the FDA has ever approved, the incredibly high dosage of progesterone (10 milligrams) had dangerous side effects including blood clots and dizziness. People worried the FDA had rushed into approving something under the duress of public pressure.
Related: Carl Djerassi wasn't the only 'father of the pill'
"There was also a second area of concern, and that's really about what we now call the sexual revolution," said D'Emilio. "The birth control pill is one of the last steps in this much longer campaign to give women more control over whether they become pregnant or not—beyond abstinence."
So the concerns surrounding the distribution of a pill that allowed women to control when they did and did not get pregnant stirred up concerns about the medical safety of a drug (taken by otherwise healthy women) on a daily basis, and concerns about women's sexuality going free and unchecked. Sound familiar?
That's because those concerns (slightly altered) are the same ones we see now—50 years after the approval and legalization of oral birth control—surrounding the possible approval of a drug that would allow women to have greater control over how often they want sex.
2015: Women have a right to enjoy sex
If you've been following the years-long journey of the "female Viagra" pill, you know it's already been turned down twice. Critics are worried that the risks—flibanserin has been known to cause side effects like nausea and dizziness in test groups—far outweigh the intended benefit of giving women who complain of a long-term lack of sexual desire a slightly revved up sex drive. Others argue that approving the drug would be a decision based on public pressure, not actual science.
When asked if there's a possibility that the public is reacting so strongly because we simply haven't seen a drug like this for women yet, D'Emilio said he wishes he knew. We won't know what, exactly, the impact of approving a drug like flibanserin is until we've lived with it for 10 to 15 years, he said. But what D'Emilio does know, as an expert in sexual history, is how medications that deal with women's sexuality have been received in the past.
Related: How legal weed could change the future of sex
"It would be hard for me to imagine that it's going to lead to dramatic changes in patterns of sexual behavior in the way that the sixties and seventies saw dramatic changes," said D'Emilio. "It'll have an impact on relationships and the sex lives of individuals, and it will be part of the debate about male and female and sexuality—but in a sense it's one more step in this larger shift that you can see happening over the course of the twentieth century."
Are we about to jump into the next big sexual revolution, at the aid of giving women better control over their libido? Probably not, at least according to D'Emilio. But as long as sexual dysfunction medication exists for men that doesn't exist for women, the way we treat sex lives across gender isn't exactly fair.
D'Emilio pointed to the vocabulary we still use to talk about women who don't have a problem speaking openly about their sex lives. "There's still this sense that men have much more sexual freedom than women do because of negative stereotypes like 'the slut,'" said D'Emilio. "It's possible that this FDA decision, which in effect validates female sexual desire, will be a step in pushing against the gender inequalities that exist around sexuality."
Related: Does taking birth control at the same time every day matter?
If the potential approval of a female arousal drug is added to the long timeline of sexual equality, it falls in line with the work we've already done. It's the next logical step in a series of logical steps: We had to talk about sex before we could solve the problem of unwanted pregnancy, and we had to solve the problem of unwanted pregnancy before we could talk about something like desire.
It's not a new sexual revolution, but a continuation of what we've been fighting to give women since we started talking about sex in the open. It's a new way for women, who so choose, to control when and how they have sex. And ultimately, that sounds like a good thing.
Hannah Smothers is a reporter for Fusion's Sex & Life section, a Texpat, and a former homecoming princess.